06/11/2019
Salesforce Buys Tableau in $15.7 Billion Deal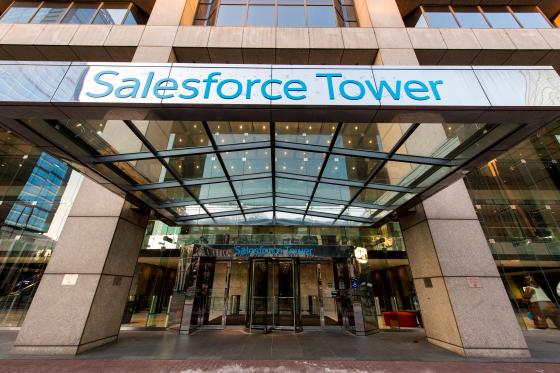 San Francisco-based Salesforce has penned an all-stock agreement to acquire data analytics platform Tableau for $15.7 billion.
Being a cloud-based software company, the acquisition of Tableau more prominently positions Salesforce as a driver of digital transformation, which is expected to reach $1.8 trillion in worldwide spending on technology and services in 2022, according to IDC's Semiannual Worldwide Digital Transformation Spending Guide.
"We are bringing together the world's  No. 1 CRM [customer relationship management] with the No. 1 analytics platform. Tableau helps people see and understand data, and Salesforce helps people engage and understand customers. It's truly the best of both worlds for our customers — bringing together two critical platforms," said Salesforce co-chief executive officer Marc Benioff, in a media release. "I'm thrilled to welcome [Tableau ceo] Adam [Selipsky] and his team to Salesforce."
The acquisition unites Salesforce's 1.4 million clients with Tableau's 1 million. Tableau will primarily combine with the Salesforce Einstein artificial intelligence-enabled CRM assistant to "deliver the most intelligent and intuitive analytics and visualization platform for every department and every user at any company," according to the release.
Tableau will additionally help bolster Salesforce's data integration product, Customer 360, and its analytics capabilities to reach more customers.
 "Joining forces with Salesforce will enhance our ability to help people everywhere see and understand data," said Selipsky. "As part of [Salesforce], Tableau's intuitive and powerful analytics will enable millions more people to discover actionable insights across their entire organizations."
Projected to close by the end of October, the purchase is also expected to add $350 million to $400 million to Saleforce's revenue in the current fiscal year.
Tableau was ranked among the top solution providers for Business Intelligence in CGT's 2019 "Readers' Choice Survey," while Salesforce earned "Best in Category" honors for Retail Execution and Customer Relationship Management, "Customer Satisfaction Leader" for Digital Commerce, and both Best in Category and Customer Satisfaction Leader for Consumer Experience Management. The company also ranked among the top solution providers for Artificial Intelligence.