02/21/2019
Readers' Choice Survey 2019: Customer Relationship Management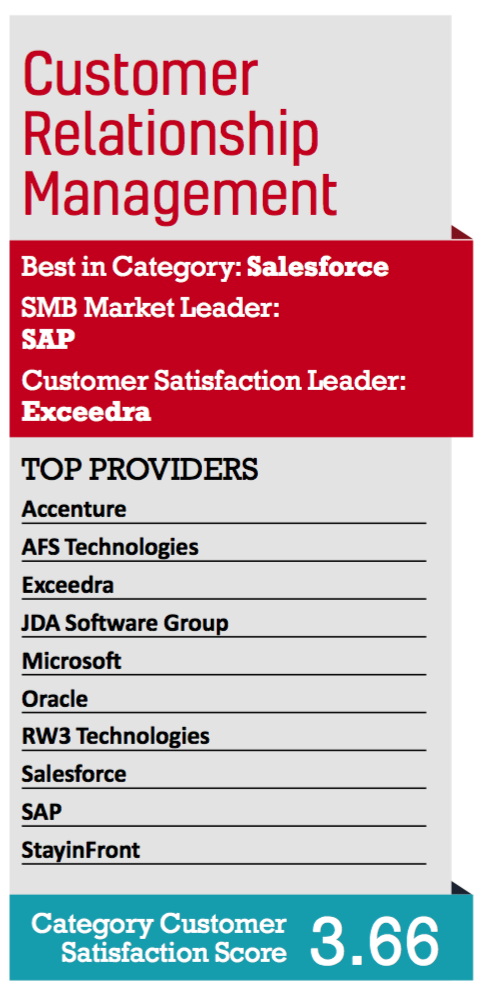 The CGT community's preferred providers for customer relationship management solutions including marketing, sales force automation, customer service and category management.
Best in Category: Salesforce
Longtime CRM favorite Salesforce (and 2018's SMB Market Leader) ascended to Best in Category this year, earning praise from its consumer goods clientele for "cost and contract flexibility" and a platform that is "easy to use" and "gives the right information in the right way." Several survey takers noted that they're still only using a fraction of the solution set's functionality.
Service enhancements in 2018 included the addition of a voice assistant for conversational CRM, expansion of a global alliance with AWS involving new product integrations, the acquisition of app-network building platform MuleSoft and launch of the Salesforce Integration Cloud (to be powered by Mulesoft ). Top clients include Kellogg Co., lifestyle product manufacturer Yeti, and soda syrup maker Torani.
SMB Market Leader: SAP
SAP set its sights squarely on rival Salesforce (which unseated it as category leader this year) when it launched the fourth-generation SAP C/4 HANA in 2018, taking a broader, customer-centric approach to the category by incorporating the capabilities of acquired tools Hybris, Gigya and CallidusCloud.
The cloud is also a key part of SAP's invigorated approach to the SMB space, where SAP Business ByDesign and SAP Business One (also available on-premise) both incorporate CRM alongside other ERP functions. At the company's annual SMB Innovation on Summit, CRM played an important role in SAP's digital transformation vision, which enables smaller enterprises to tap into capabilities to instantly identify and cater to customers based on stored preferences.
Customer Satisfaction Leader: Exceedra
Strong enthusiasm for Exceedra in last year's Trade Promotion Management rankings extended over to Customer Relationship Management this year, where the company topped the category with a 4.5/5 rating. Exceedra CRM users praise the solution's strengths in tracking, reporting and visibility. "A good system, intuitive, provides insight," said one respondent; "They have a very good system and collaborative development," said another.
Exceedra was busy in 2018 adding new clients and on-boarding others, collecting accolades from analysts and media organizations, and hosting a series of events and webinars to help clients enrich their use of the integrated business planning and agile decision-making platform.
Noteworthy: StayinFront
StayinFront has been providing a full suite of mobile, cloud-based field force effectiveness and customer relationship management solutions for consumer goods companies in more than 50 countries for over 20 years. UK soft drink manufacturer A.G. Barr signed on last year to leverage StayinFront TouchCG to improve selling tools and execution capabilities for its retail, telesales, direct-store delivery and van sales processes. Clients here in the U.S. include Kellogg, L'Oréal and Mondeléz International.
An early 2019 upgrade to the StayinFront Consumer Goods solution is aimed at increasing efficiency and reducing total cost of ownership for system administrators.