Readers' Choice Survey 2019: Consumer Experience Management
Get great content like this right in your inbox.
Subscribe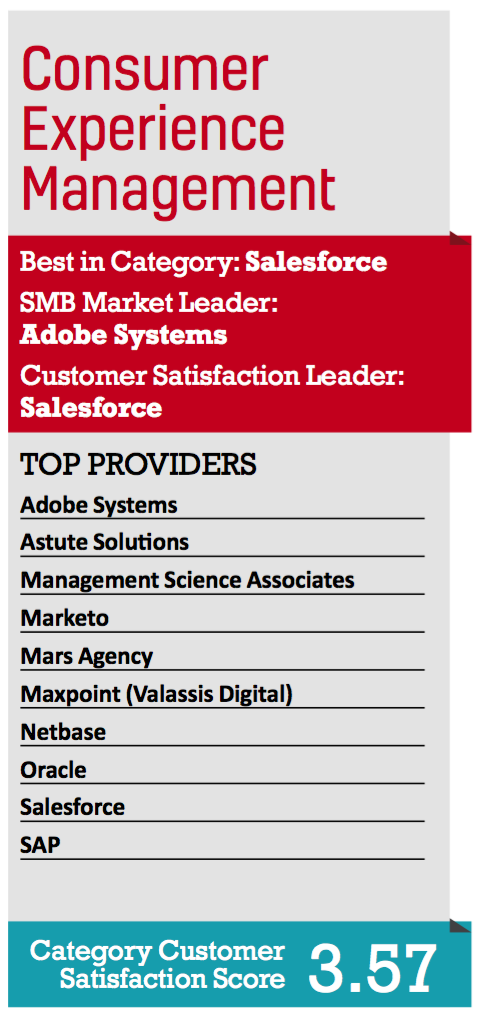 The CGT community's preferred providers of solutions for improving consumer engagement through social media, online platforms, digital content, advertising and omnichannel management.
Best in Category, Customer Satisfaction Leader: Salesforce
Last year's Customer Satisfaction leader retains that honor (with a 3.9 rating) but also earns the Best in Category nod. Respondents praised the company for its "robust platform" and "good functionality." One said, "Overall we are happy," but acknowledged that his company isn't yet using the product to its full potential.
In 2018, the company unveiled Salesforce Customer 360, a way for clients to connect various apps and deliver unified cross-channel consumer experiences, which will become widely available in 2019. The tool enhances data management across Salesforce apps and provides instant access to consistent, reconciled consumer data. These include enhanced integration between Google Analytics 360 and the Salesforce Marketing Cloud, and machine learning and pattern analysis capabilities for discovering new audiences and personalizing consumer journeys.
Users include footwear manufacturer Crocs, which is using
the platform to gain a 360-degree view of its consumers by enabling every system to recognize an individual through a single ID, regardless of engagement channel.
SMB Market Leader: Adobe Systems
Adobe Systems captured the SMB Market Leader title this year for its ability to help companies access end-to-end solutions for marketing, advertising, analytics and commerce. Survey takers praised the fact that the "cost is at our level," as well as the cloud-based platform's "ease of use." Adobe's strategy gained a major boost in 2018 with the addition of Marketo (see below) and its lead management, account-based marketing and revenue attribution technology, which meshes well with the Adobe Experience Cloud's analytics, personalization and content capabilities.
Elsewhere in 2018, Adobe, Microsoft and SAP introduced an open data initiative to offer a common approach and set of resources to let their mutual clients derive greater value from their data and deliver world-class consumer experiences in real-time.
Noteworthy: Marketo
Marketo made it back onto the Consumer Experience Management list this year shortly after being acquired by Adobe. (Ah, well.) The company's engagement platform empowers marketers to drive more meaningful consumer interaction and deliver greater insights to improve campaign success. Clients include Cannon and Sherwin- Williams.
During the year, Marketo unveiled new campaign platform Marketo Sky. It also acquired business marketing software firm Bizable and formed a partnership with Pedowitz Group. Combining the analytics, personalization and content capabilities of the Adobe Experience Cloud with Marketo's lead management, account-based marketing and revenue attribution technology is intended to help clients further connect their marketing engagement to revenue growth.
Return to the full Readers' Choice Survey