02/21/2019
Readers' Choice Survey 2019: Business Intelligence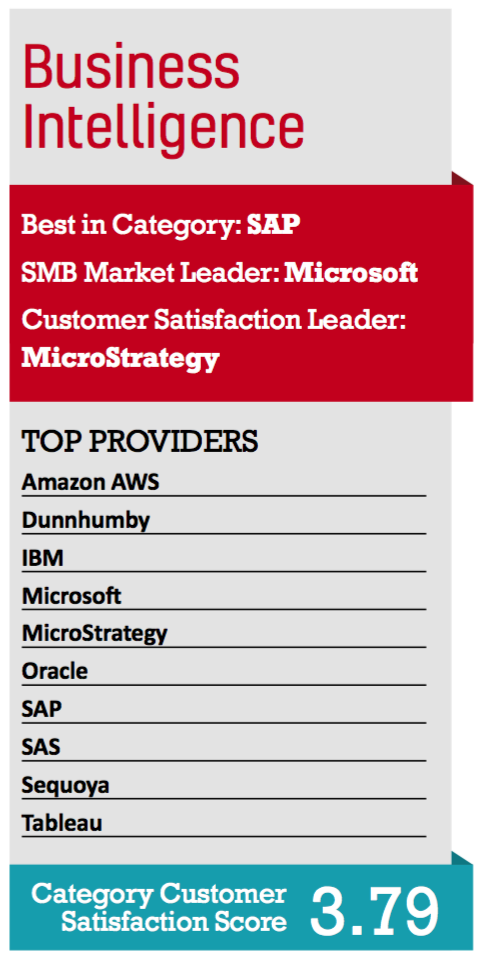 The CGT community's preferred solution providers for business intelligence applications including reporting, analytics and data mining/warehousing.
Best in Category: SAP
SAP continues its dominance of the Business Intelligence category with products that one CGT survey taker called "easy to use." But its list of BI products had become pretty lengthy, so over the past several years the company has been driving toward convergence, with an eye toward reducing complexity and focusing on BI use cases across industries. The result is SAP Analytics Cloud, a platform
that enables companies to discover, analyze, plan, predict, and collaborate. The solutions integrate with both on-premise and cloud-based data sources and applications, and are designed around ease of use and faster delivery of innovation.
SMB Market Leader: Microsoft
Microsoft repeats as SMB Market Leader for BI this year, praised by satisfied clients for being "low cost, effective, easy to implement and access" and providing "good customer service." "We are a mixed BI company, but focusing efforts toward Microsoft Power BI and [top 10 provider] Tableau, both of which deserve a 5-star rating," one survey taker said. Another remarked, "We use the full suite of Microsoft products and they are great." In fact, 10 respondents cited Microsoft as their most valuable partner across all tech providers.
In news, Microsoft released updates to Power BI, including premium multi-geo aggregations for databases and new landing page and dashboard commenting that better facilitates collaboration. Columbia Sportswear is among Power BI users.
Customer Satisfaction Leader: MicroStrategy
Last year's "Noteworthy" BI vendor captured the Customer Satisfaction title this year, thanks not only to a high rating (4.67/5) but to client comments such as, "Great partner providing a product that meets multiple needs." MicroStrategy provides analytics capabilities for sales and marketing, operations, finance, supply chain and orders and shipment reporting. In 2018, the company announced the availability of three new gateways in its 10.11 release, which will enable users to easily visualize, analyze and distribute data using Microsoft Azure. Clients include Chiquita Brands International, McCain Foods and Campbell Soup Co.
Marketing for a product upgrade unveiled at last month's NRF Show boasts of providing "a new category of analytics" dubbed "Hyperintelligence" that automatically provides contextual insights from a vast mix of web content, screens, walls, devices and applications "with no clicks required."
Noteworthy: SAS
Drawing more sophisticated, actionable insights from data about products, retail customers and consumers is a high priority for CG companies, as well as a key component of the industry-specific BI solution set at SAS. Clients including Nestlé, Harry & David and Levi Strauss & Co. turn to SAS to bring more advanced analytics tools and technologies into their planning, marketing and sales processes. SAS also earned accolades from analysts including Forrester and IDC last year, which recognized the company's significant market share in advanced analytics.
The company was even recognized by People as a "Great Place to Work" in 2018. Other clients include Honda, 1-800-Flowers and Konica Minolta, the last of which implemented an AI-driven platform that sped up its "plan-do-check-act" cycle by creating and deploying multiple analytical models that improved malfunction forecasts, management optimization and a range of other processes.