Readers' Choice Survey 2019: Digital Commerce
Get great content like this right in your inbox.
Subscribe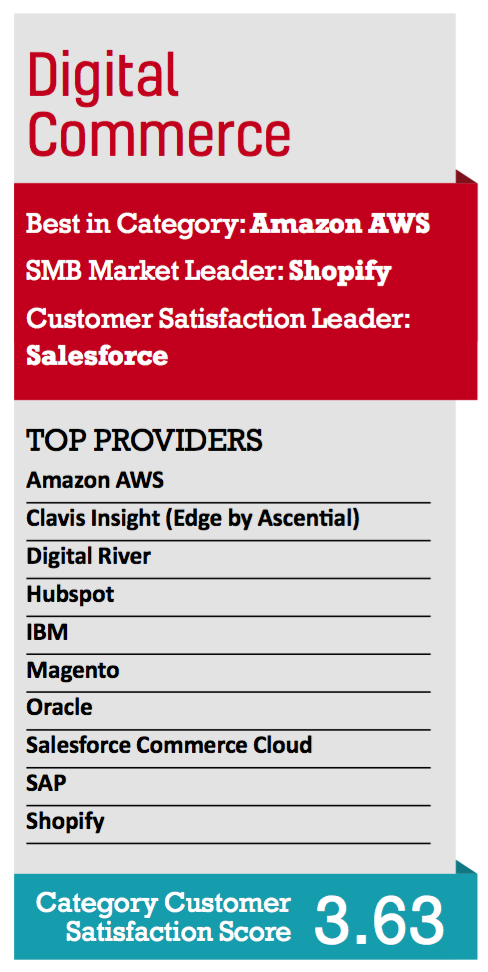 The CGT community's preferred providers of solutions for BTB and B2C transactions, direct-to-consumer selling and other e-commerce services.
Best in Category: AWS (Amazon Web Services)
Amazon's booming success as an e-commerce retailer and private-label purveyor may be keeping consumer goods executives up at night, but the company wants to be an ally when it comes to digital commerce tools and services like infrastructure, analytics and database management through the growing (and profitable) AWS unit. After first arriving on the Readers' Choice scene last year by earning Customer Satisfaction honors, AWS jumped to the very top of the ranks this year.
Survey respondents were succinct with their praise, noting a solution that "works well" and is "still tracking steadily," and reporting simply that they are "satisfied." CG companies making use of the company's broad range of offerings include Unilever, GoPro and Under Armour. AWS released a stream of product enhancements and releases throughout 2018, from managed block-chain to a new optimized edge computing product.
SMB Market Leader: Shopify
"Shopify makes it very easy to collect orders in a variety of ways and has been easy to use as well," one survey taker remarked. "Just started to work with them, but am pleased with the functionality and value," said another.
In 2018, the company opened its first physical space to provide in-person help to merchants, expanded its integration efforts with Instagram, and added Google Pay as an option. Product enhancements included significant upgrades for retail stores, a new marketing section in the dashboard, automation and simplification of back-office workflows, a Shopify services marketplace, and a revamped app store.
Customer Satisfaction Leader: Salesforce
The former Demandware platform, now officially Salesforce Commerce Cloud, earned props as the Customer Satisfaction leader with a 4.0/5 rating. Appropriately, one survey respondent praised Salesforce for its "good customer service," and another said the vendor is "very new to our organization, but has been good so far."
In 2018, Lilly Pulitzer implemented both the Salesforce commerce and marketing clouds and Tarte Cosmetics launched two new websites built on Salesforce Commerce Cloud. Milk Makeup began using the Cloud to redefine its digital shopping experience. Denim brand NYDJ adopted the commerce and marketing clouds to grow its direct-to-consumer channels.
Noteworthy: Clavis Insight
Numerous companies have turned to Reader's Choice newcomer Clavis Insight (an Editors' Pick in 2018) to provide action-ready insights and performance measurement about their brands' e-commerce activity, help them drive sales, optimize content and compliance, and gain unified reporting. The list of blue-chip clients includes Unilever, P&G, Kimberly- Clark and Nestlé.
After expanding its relationship with IRI to include Australia, Clavis Insight was acquired by Ascential plc in late 2017. Now, the solution set sits alongside those of Brand View, One Click Retail and PlanetRetail as part of Edge by Ascential, a next-generation data, insights and advisory service compiled by British business-to-business media conglomerate Ascential plc.