Tostitos Uses Bag Tech to Stop Big Game DUI
Get great content like this right in your inbox.
Subscribe
Frito-Lay's Tostitos brand is building marketing momentum for the Super Bowl by promoting unique packaging that presents a warning to game day snackers who have alcohol on their breath.
Through the "Party Safe" campaign, Tostitos will distribute an undisclosed number of packages containing sensors connected to microcontrollers that are able to detect small traces of alcohol on a consumer's breath.
If alcohol is detected, the packaging graphics change to present the image of a red steering wheel, a "Don't drink and drive" message and a special code providing $10 off car service on Super Bowl Sunday from Uber (see image, below). The bag also contains near-field communication technology that lets consumers simply tap the bag with a smartphone to order an Uber ride.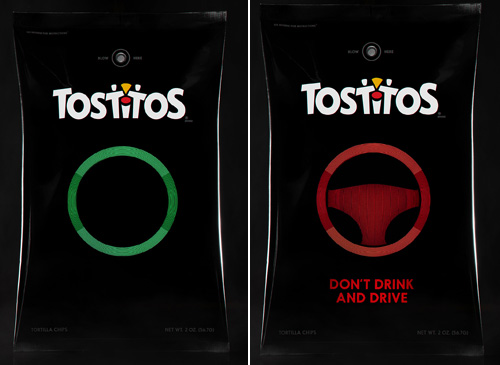 A broader component of the program provides the Uber deal to consumers who enter the barcode from nearly all Tostitos packaging into the Uber app. The offer will be limited to the first 25,000 scanners. "Our goal is to remove 25,000 cars from the roads that Sunday evening," said Jennifer Saenz, Frito-Lay's chief marketing officer."
Nonprofit Mothers Against Drunk Driving partnered with Frito-Lay on the campaign. National Football League player Delanie Walker, whose aunt and uncle were killed by a drunk driver soon after they watched him play in the 2013 Super Bowl, is spokesperson.
The bags were unveiled earlier this month during TV coverage of the NFL playoffs. Made only in limited amounts, the bags "are only being distributed to selected individuals," according to a spokesperson for Goodby Silverstein & Partners, which created the campaign.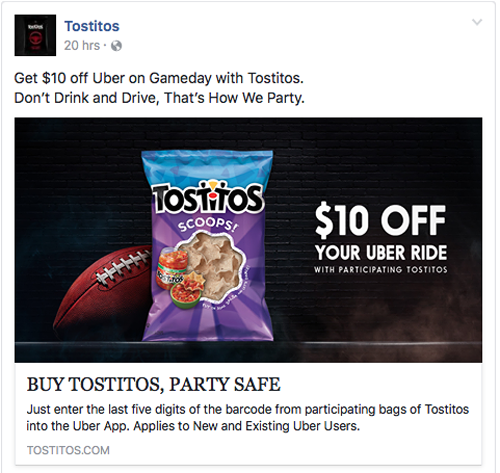 The PR-centric effort included social media promotion via Facebook and YouTube, the latter featuring a 30-second spot starring Walker (see video, at top). 
Frito-Lay is a division of PepsiCo, which ranked 4th in CGT's 2016 ranking of the "Top 100 Consumer Goods Companies."