Huggies Offers 'Made By You' Diapers
Get great content like this right in your inbox.
Subscribe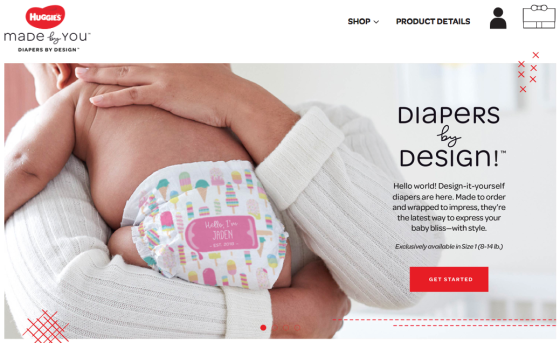 Move over, "Baby's First Christmas" ornament. Kimberly-Clark is now offering Huggies Made by You, an online service that lets parents and gift givers create and buy personalized diapers.
The made-to-order diapers can be customized with names, monograms and dates and come in a choice of five limited-edition designs. Marketed under a partnership with digital commerce solution provider BrandShop, they're available exclusively at huggiesmadebyyou.com.
"We know that a lot of thought goes into selecting the perfect gift for expectant parents reflective of the celebration of each unique baby," said Sara Young, general manager of Huggies. "Overwhelmingly, consumers express passion for personalization and we're thrilled to be offering Huggies Made by You to deliver a gift that's as exciting to give as it is to open."
Huggies Made by You was unveiled at an exclusive baby celebration for interior designers and husbands Nate Berkus and Jeremiah Brent to celebrate the arrival of their son, Oskar. The event was curated by celebrity party planner Nicole Marie Pittmon.
"Our aesthetic is all about adding personal touches," said Brent. "The new line adds that personalized expression, so that you can gift something that truly reflects new parents and their baby."
Each custom order costs $75 and consists of 28 premium Huggies Made by You diapers in one of the five designs. The products are only available in size 1 (eight to 14 pounds). 
The custom diaper "fashions" can be shared by using #MyHuggies and tagging the brand on Facebook, Twitter, Instagram or Pinterest.
While Huggies may be the only brand offering exclusive diapers, it is not the only packaged goods company outsourcing its e-commerce business to BrandShop, which provides everything from fulfillment and secure payments to customer service. Other companies that sell goods through Brandshop include Tommy Hilfiger, Casio, Waterpik, Mrs. Meyer's Clean Day, Caldrea (aromatherapy), Senseo (coffee machines), Kuhn Rikon (cookware) and Hershey. 
A BrandShop consumer study found that four of five shoppers expect to be able to buy products directly from a brand's site and would do so if given the option.
Kimberly-Clark ranked 27th on CGT's list of the "Top 100 Consumer Goods Companies" for 2017.