05/11/2017
Editor's Note: Everything New is Old Again
To read the full digital edition of CGT's May 2017 issue, click here
If traditional retail is dying,then why are most new consumer goods companies still lining up to get on store shelves?
The entire marketplace has found a new home in e-commerce, the lines between retailer and product manufacturer are blurring, the very definitions of "retailer" and "manufacturer" are evolving, and the need to build a deep understanding of consumers is more critical than ever. (For more about these trends, check out "The DTC Dilemma" on page 9 and our annual "Retail & Consumer Goods Analytics Study" on page 13.)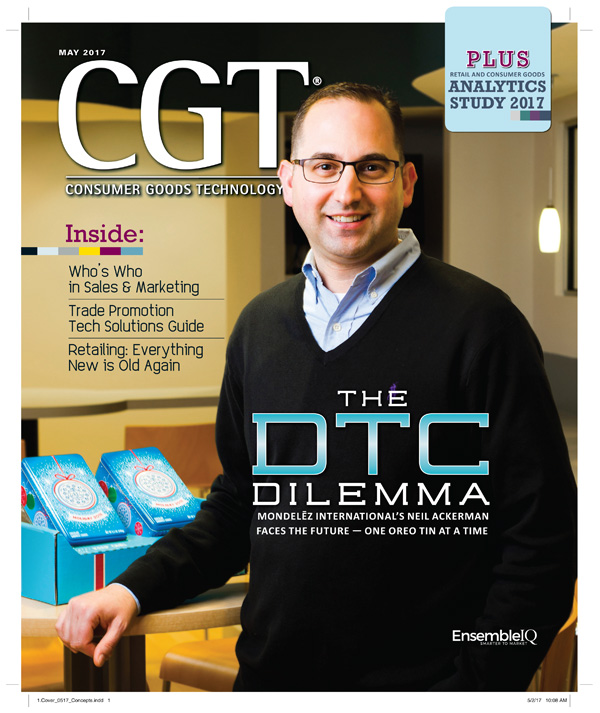 One company that exemplifies all of the above trends is Stitch Fix, a six-year-old apparel maker-cum-retailer that's already racking up more than $300 million in annual sales, according to reports. Consumers provide their size, style and price preferences through stitchfix.com and pay a $20 styling fee. The company's proprietary algorithms and "expert human stylists" then go to work to create five unique apparel items that are shipped (free of charge) to consumers, who buy what they want and send back the rest (free of charge).
Stitch Fix employs about 2,800 mostly part-time stylists and 1,000 warehouse workers, according to Forbes. It also has 75 data scientists working on the algorithms, according to chief algorithms officer Eric Colson, who spoke in January at ShopTalk.
Attendees of the two-year-old conference were enchanted by a wealth of such innovative thinking. If you think you know every market-shaking business model that's out there, you should probably think again.
To be clear, not all the innovative thoughts came from new companies. ShopTalk's agenda was also filled with traditional CG execs like this month's cover subject, Neil Ackerman of Mondelez, along with Unilever's Doug Straton and Keds' Emily Culp — two names from our "Who's Who in Sales & Marketing" feature (see page 5). 
Still, there were enough disruptors to make you think the old way of doing business is completely doomed, with new strategies poised to replace old models and new companies ready to take control of the marketplace from the anachronistic old guard.
However, a lot of these e-commerce disruptors seem to adopt old-school practices after reaching a certain size and maturity level. Recent success stories at ShopTalk like Walker & Co., Mon Purse and Harry's Inc. (which we profiled last month) all have something else in common: They're now also sold through traditional retail. (OK, so Stitch Fix probably won't follow this trend.)
What's more, a lot of these new-age challengers seem destined for acquisition by the very consumer goods companies they're threatening to replace. (Some companies seemed to be at ShopTalk to actually attract acquisition.) We were all ready to showcase Dollar Shave Club and Bai among this year's list of "Standout SMBs" (also published online in April), but they were scooped up by Unilever and Dr Pepper Snapple Group, respectively. Now, they're both Super Bowl advertisers.
Yes, the traditional consumer goods industry requires some massive transformation to stay relevant. But let's not write off all the old business models just yet. Some of them may still apply.
To read the rest of CGT's May 2017 issue, click on the article links below: