09/12/2018
Top 10 Apparel Manufacturers of 2018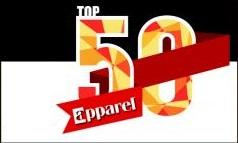 Every year, CGT sister publication Apparel examines the profit margin of the industry's top public manufacturers and retailers and ranks them in its highly anticipated Apparel 50 report. The following is a look at the top manufacturers on the list.
Apparel is in its third decade of producing the Top 50 Report, an annual ranking of the most profitable apparel companies (with at least $100 million in sales) that trade on the U.S. stock exchange.
For even the most successful apparel players, 2017 was a difficult year (particularly the first half) that came on the heels of a string of challenging years that witnessed store downsizings and bankruptcies, and much gnashing of teeth over the fate of brick and mortar, as well as that of retail overall.
Against this backdrop — or perhaps more accurately, fueling this backdrop — are rapid-fire changes in retail, including the continued growth of e-commerce and mobile shopping and the attendant rising expectations of personalization and seamless customer experience.
Robert Wallstrom, chief executive officer of Vera Bradley, may have put it best. Asked about the company's challenges, he replied: "Over the last few years, retail has been going through a very disruptive cycle, and the industry has changed forever. Technology has revolutionized retail: the e-commerce channel has become the primary growth engine; marketing has transformed to a "digital first" strategy; the physical store has moved from a place of purchase to a place of brand experience; and artificial intelligence is becoming the core engine to drive change faster than anyone could have previously imagined."
Without further ado, CGT highlights the top 10 apparel manufacturers on the 2018 list (representing manufacturers that sell products through other retailers in addition to their own stores):
1. Vince
The apparel maker reports that it is signing shorter-term leases. The company, which pulled off probably the greatest leap in Top 50 chart history — from off-the-rankings to the No. 1 spot — attributes its turnaround in part to: creating better product assortments; focusing on e-commerce, including the launch of a mobile app; rebalancing made-for and excess product in its outlet channel; exiting some brand partnerships while focusing on relationships with Nordstrom and Neiman Marcus; and opening stores in proximity to locations where it has exited other department stores. (Vince also ranks No. 1 on the full list.)
2. Tapestry (Coach, Kate Spade, Stuart Weitzman)
Tapestry saw revenues drop, yet kept more of what it made, with profitability up vs. the previous year — a sign that the company is perhaps working smarter. 
"Three years ago, we laid out our vision to transform Coach and announced our intention to grow beyond the Coach brand. Through the execution of our strategic plan and with the acquisitions of Stuart Weitzman in 2015 and Kate Spade & Company just this summer, we have realized these goals," said CEO Victor Luis. 
"We are now at a defining moment in our corporate reinvention, having evolved from a mono-brand specialty retailer to a true house of emotional, desirable brands, all leveraging our strong operational foundation," Luis said. "Each of our brands has a unique proposition, fulfilling different fashion sensibilities and emotional needs. ... At the same time, our brands are also built upon the shared values of optimism, inclusivity and innovation." (Tapestry ranks No. 3 on the full list.)
3. Michael Kors
Michael Kors has prioritized creating an engaging, luxurious customer experience online and in-store, continuing the rollout of "Kors Connect" to its sales associates, which gives them the ability to augment in-store selections with products available online and at other physical locations. New features this year include enhanced clienteling services for building user profiles and personal looks for each customer. Kors also is deepening its connection with consumers through a new VIP loyalty program launched earlier this year that has surpassed expectations and helped the company grow its global database by 24%. (MK ranks No. 4 on the full list.)
4. Nike
The iconic sports brand recently opened a new "Rebound" facility in North America, the first to be focused solely on accepting returned products and getting them back into the marketplace faster, with the goal of maximizing full-price, in-season selling, CEO Mark Parker said in a recent earnings call. The company's "Digital Offense" strategy is transforming everything from how the brand connects with consumers to how it delivers products. Notably, Nike Digital sales were up 41% in the fourth quarter; the brand has fully embraced digital for its power to amplify the stories of its athletes and connect with its active mobile and social consumers.
"Digital is allowing us to realize our vision for smart retail to remove friction and personalize experiences through the intersection of digital and physical environments," says Parker. "It's sharpening our ability to sense the market through data and analytics. It's unlocking new manufacturing tools that are more precise and drive a new aesthetic. And it's opening up opportunities for new partnerships and how we develop talent in the organization."
Just a few examples: via Nike Plus membership, the company learns the preferences and activity levels of its consumers, opening the door to providing exclusive products, style advice and rewards for their actions that they can use across both mobile and in-store environments. Via the new Nike app, the brand is erasing the lines between physical and digital even further: aggregating consumer data, it can identify buying patterns at the local level and turn them into new opportunities; one example is last month's opening of a new Nike Live small-format retail concept in Los Angeles, a data-driven store whose assortment is influenced by what consumers are buying from surrounding ZIP codes. (Nike ranks No. 5 on the full list.)
5. Lululemon athletica
Lululemon athletica, another perennial top-of-the-charter, comes in at No. 7 this year. In fiscal 2017, net revenue was up 13% to $2.6 billion, total comparable sales increased 7%, and direct-to-consumer net revenue increased 27%. In December, the company opened its largest store to date in Newport Beach's Fashion Island. 
"We are seeing strong momentum across our business as we now move into 2018, which is further positioning us to achieve our 2020 revenue goal of $4 billion," said chief operating officer Stuart Haselden. "Importantly, we would like to thank our store educators, ambassadors, and the lululemon collective around the world for [the] energy and passion that is enabling our continued success." (lululemon ranks No. 7 on the full list.)
6. Carter's
For fiscal 2017, the baby apparel brand reported a 6% rise in net sales to $3.4 billion, which reflects growth in the U.S. retail segment and contributions from the Skip Hop acquisition. The Skip Hop and Mexico additions (see below) contributed $96.3 million and $15.4 million, respectively, to consolidated net sales for the year.
"We saw strong demand in all channels of distribution in the fourth quarter and are reporting another year of record sales and earnings," said CEO Michael Casey. "In 2017, we achieved our 29th consecutive year of sales growth, strengthened our business with the acquisitions of Skip Hop and our largest international licensee based in Mexico, and returned $260 million to shareholders through dividends and share repurchases." (Carter's ranks No. 10 on the full list.)
7. L Brands
Some brands are harnessing the invaluable feedback loop from social media. Jan Singer, CEO of of L Brands' Victoria's Secret, noted in a recent earnings call that the brand's engagement with millions of consumers both in-store and online provides a competitive advantage when it comes to product creation. (L Brands ranks No. 12 on the full list.)
8. Perry Ellis International
"Our ongoing strength continues to validate the success of our strategy and the strong execution of our initiatives by our team, with continuous innovation across our powerful global brands leading to strong acceptance of our product offerings around the world," commented CEO Oscar Feldenkreis. "The fourth quarter saw us direct growth toward our higher-margin core brands, channels and businesses. which resulted in core brand sales increasing 19%, international growth of 33%, e-commerce sales rising and positive comparable sales." 
During the year, Perry Ellis also made numerous licensing deals to expand its portfolio, including South Korean eyewear brand Taesok Optical, North African surfing brand Kennek FZE, Mexican tie brand Euroneck, UK watch brand Peers Hardy, and a host of apparel and sportswear brands. (Perry Ellis ranks No. 14 on the full list.)
9. VF Corp.
Not surprisingly, global behemoth VF Corp. again expanded through acquisition, adding Williamson-Dickie's workwear brands and the Icebreaker and Altra athletic brands to the portfolio. But it also divested several properties, including the Licensed Sports Group, the Majestic brand and Nautica, as part of its goal to reshape the portfolio. (VF Corp. ranks No. 17 on the full list.)
10. PVH Corp.
While continuing to invest in its iconic Calvin Klein and Tommy Hilfiger licensed businesses, PVH is "well positioned to make acquisitions that can enhance [its] business, whether from a financial, operational or talent perspective," says chief executive officer Manny Chirico. (PVH ranks No. 18 on the full list.)