SMB Award 2018: Brandless
Get great content like this right in your inbox.
Subscribe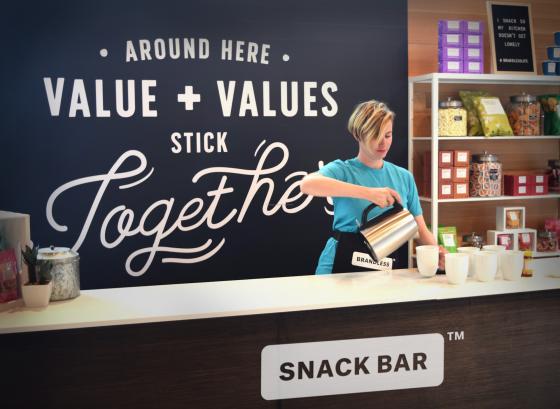 Online-only sales? Check. Direct-to-consumer delivery? Check. Digitally enabled personal communication with consumers? Check. Environmentally friendly business practices and health-focused product formulation? Double check. Charitable donations built right into the business plan? You don't really need an answer, do you? 
"None of this could have been done on legacy logistics networks. They were built to service the old distribution channel by shipping huge pallets of consumer products from factories to warehouses and then to retail stores," Brandless chief executive officer Tina Sharkey wrote, in an article for e-commerce solution provider Flexe. "That system is broken, and we're not fixing it." 
Of course, Brandless took things one step further by using a brand-eschewing strategy to help make a name for itself upon launching in mid-2017. The brand-building process, you see, is just another part of the system that forces consumers to pay higher prices for packaged goods. 
"We reimagined the entire CPG industry, challenging the notion that better needs to cost more, by providing quality products at a fair price," Sharkey told CGT back in April, when Brandless was named one of our "Standout SMBs" for 2018. 
Since then, the company has been building out the product offerings (expected to hit 400 SKUs by the end of 2018), as well as the consumer base. It's also attracted nearly $300 million in financial support to date, including $240 million from Softbank in July; the Japanese tech investor reportedly liked Brandless' focus on shopper data and no-frills portfolio. (A joint venture in Asia is in the works.) 
"Pop-Up with a Purpose" shops in Los Angeles in the spring and New York this fall helped spread the word in person. In related interviews, Sharkey didn't rule out more-permanent locations, but reaffirmed her vow to keep the Brandless portfolio out of other retailer's stores.