03/13/2019
Jewel-Osco Introduces 'Beauty in a Blink' Boxes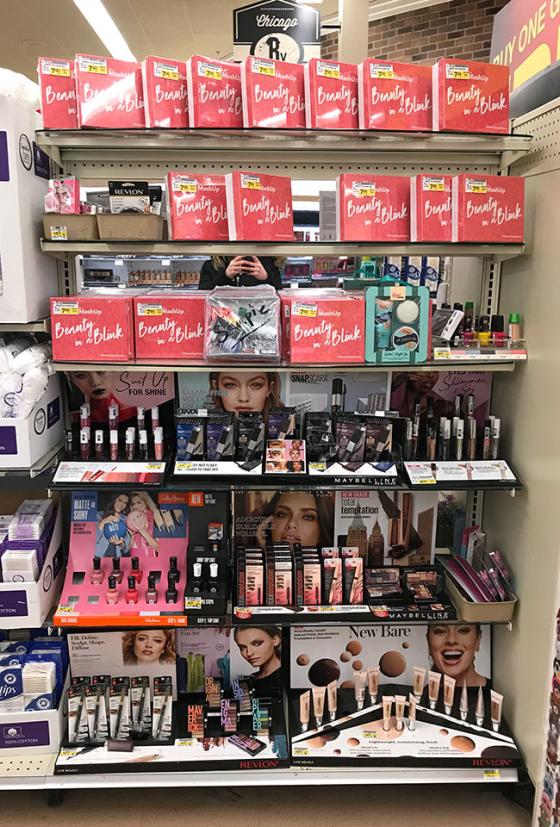 Albertsons Co.'s Jewel-Osco is one of the latest retailers to jump on the beauty box trend sweeping the category with the launch of its first curated collection of sample-sized products, dubbed "Beauty in a Blink."
As mass merchants Walmart and Target have done, Jewel-Osco gave its own spin to the subscription trend by introducing its own limited-time box comprising nine miniature personal care and cosmetic products. The SKUs include new and indie items like hello's activated charcoal whitening toothpaste from responsibly sourced and cruelty free Hello Products, as well as Bausch + Lomb's new Lumify eye drops from Valeant Pharmaceuticals International. The other brands included are Unilever's Simple and Dove, Dr. Bronner's Magic Soap and L'Oreal's Elvive, Maybelline, Revitalift and Infallible. The nine-piece box is priced at $7  — less than the value of the included 2.5 ml Lumify eye drops alone.
The items are wrapped in bright pink tissue paper and enclosed with a card in a pink-themed box, so opening it resembles unwrapping a gift. The pink "beauty in a blink" card targets beauty consumers in a rush, with one side proclaiming: "We hand-picked these clutch products you need to master your routine so you can look your most beautiful and get out the door in a blink." The opposite side lists the participating products and delivered a coupon for $2 off one item from the brands valid from Feb. 1 through April 1.
The note additionally encourages shoppers to share their look on social media by using the hashtag #themashupbeauty and #beautyinablink, so the retailer can "peep into [their] style." Under the hashtag, sponsored influencers help plug the box across their social channels such as on Twitter, Facebook and Instagram. Many also direct users to their personal lifestyle or beauty blog where they've written blog posts commissioned by Jewel. Lifestyle and motherhood blogger Elisabeth McKnight, for example, wrote a post encouraging her readers to update their 2019 beauty routine with the box. McKnight also shared a video update on Facebook to spotlight each individual item.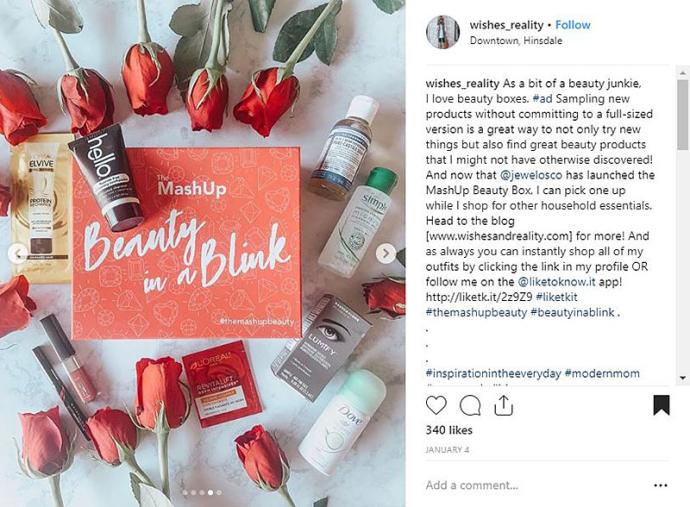 The mashup beauty boxes are available at select Jewel-Osco stores, where they are stocked in the beauty aisle. At least one Jewel in Chicago had positioned the boxes on the top three shelves of an in-line display. Communicating "Sample," one box was missing the lid and wrapped in plastic to give shoppers a peek at what's inside.
At least one small circular feature has also plugged the offering. Jewel's own social media accounts have not promoted the boxes, despite commissioning (and sometimes resharing) others' promotional posts. It's possible the retailer is using select Jewel locations to test the waters as it decides on future rollouts of the product or a similar concept available at more stores and other Albertsons chains. 
Though a little out of the norm for a grocery store, this isn't Albertsons' first stab at curated boxed offerings. Its recently launched online marketplace has been experimenting with a subscription-like model through curated specialty and sample box collections (dubbed "Marketplace Box"), which bundles healthy foods like keto snacks, paleo SKUs, or a Valentine's Day-themed "chocolate lovers" box, to name a few.
NOTE: Path to Purchase Institute members can view more images of Jewel-Osco's beauty box at p2pi.org. Members also have access to more than 2,700 images and 200 articles about marketing and merchandising activity at Albertsons chains, along with a full Retailer Profile outlining operations and strategies.