Albertsons Marketplace Continues to Evolve
Get great content like this right in your inbox.
Subscribe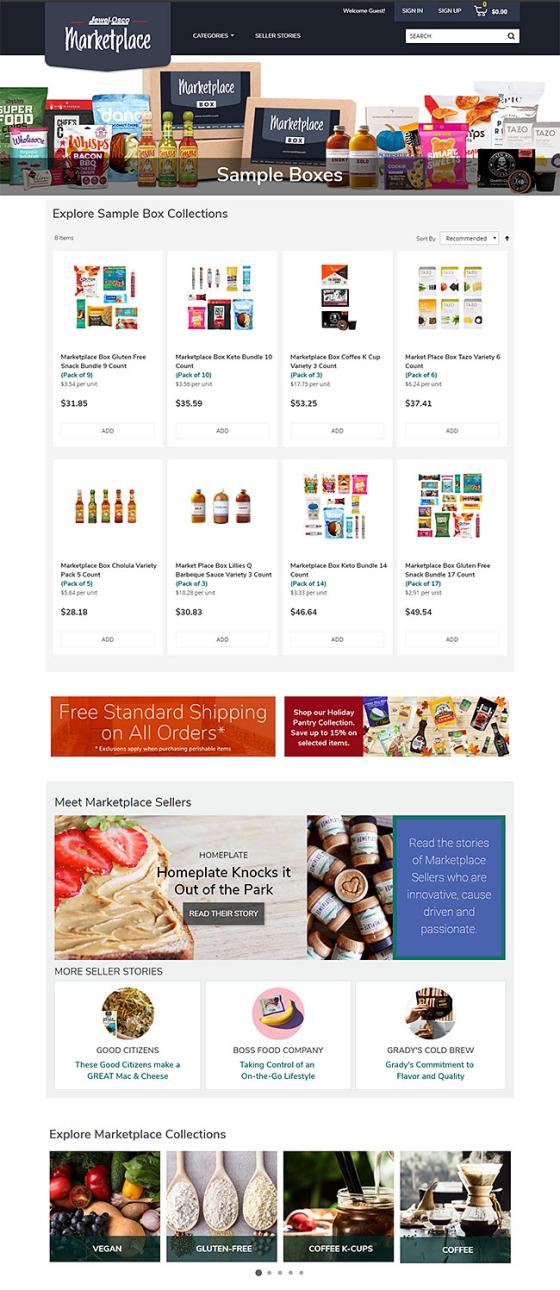 Albertsons Cos. continues to add new elements to the digital marketplace (moreforu.com) it launched last October, including pet merchandise, curated specialty boxes and an upcoming subscription service. The supermarket operator is also looking to translate learnings from the online platform into the aisles of its physical stores. 
Powered by Mirakl, Albertsons' digital marketplace essentially enables shoppers to discover more specialty items. The grocer is taking the growing demand for health-conscious products and ingredients seriously by focusing its marketplace on natural, organic, ethnic and alternative products while elevating GMO-free, non-dairy, gluten free, vegan and other product "collections" for easy shopping.
Initially launched with 40,000 SKUs that Albertsons dubbed "eclectic and exciting" spanning beauty, health, grocery and household categories, the marketplace reportedly grew to 100,000 items by the close of 2018, including the addition of the pet category. Albertsons soon plans to add wine, as well as start direct shipping of private label products and launch a subscription service. The grocer's ultimate goal is to deliver an "infinite aisle" of high-quality products.
Guidelines addressing diets like keto and paleo are already playing a prominent role on the marketplace. Albertsons offers a number of curated specialty boxes (dubbed "Marketplace Box") online only, bundling healthy foods or a Valentine's Day-themed "chocolate lovers" box (to name two), which likely are early nods to the subscription service Albertsons has alluded is in the works. Email marketing has additionally been playing a growing role in promoting the boxes.
Unlocking In-Store Opportunity
Most items sold on the marketplace are currently not available in stores, although a spokesperson for Albertsons said that might change. "Eventually, sales data will be used by merchandisers to stock items in store based on regional preferences," according to an October 2018 media release from Mirakl.
The digital platform serves as a sort-of testing ground for specialty and independent brands to see how receptive shoppers are to the products and concepts, providing valuable proprietary data on  trends to help inform Albertsons' in-store merchandising decisions.
At least one store – Albertsons' flagship location in Boise, ID – is already bringing emerging keto-friendly and other health-focused, indie brands to its shelves. Brands such as keto-friendly ice cream company Killer Creamery took to social media to announce its arrival in the store around the time the marketplace went live.
Over the last several months, P2PI also has noted more merchandising space for emerging brands across the company's banners. At Jewel-Osco, for example, brands such as Good Citizens, Kodiak Cakes and Primal Elements (all available on the marketplace, too) have been spotted on floorstands.
Vendor Processes
"The sellers are clearly excited and we're excited because we've created an enabling platform" that lets small brands get their items into stores and create a loop between physical and digital, Karl Varsanyi, group vice president of digital product management for Albertsons, said during a keynote presentation at GroceryShop in Las Vegas last fall. The marketplace also lets vendors distribute outside their own operating areas, widening their scope.
Vendors ship directly to the consumer, while Albertsons handles front-end e-commerce functions including search, product descriptions and payments (so that information isn't shared with the sellers). Each vendor generally ships items within two to five days and many offer free shipping. Vendors have their own shipping policies, with guidelines outlined on each seller page.
Vendors pay a flat monthly fee after the first month, although the amount is unspecified and likely to evolve over time, and commissions on sales were waived for a limited-time introductory offer at launch.
"We're creating a home for sellers to emotionally connect with shoppers," Varsanyi added, referencing "Seller Stories," a huge element of the marketplace that provides an in-depth understanding of a brand's origin story. Albertsons is counting on shoppers (particularly younger ones) to not only care about where the product they're purchasing comes from, but care enough to read a lengthy story about its sourcing.
Consumer Experience
Moreforu.com doesn't quite reflect the general appearance of Albertsons' chain-specific websites. The contemporary look and feel does, however, look more like the company's new "Recipes" microsite (recipesandmeals.com). Like recipesandmeals.com, moreforu.com automatically directs users to their respective chain site. For example, users located in Illinois view the Jewel-Osco Marketplace, while users in Acme territory would shop the Acme Marketplace. The online assortment doesn't change based on location, though what the company chooses to bring in stores based on data gathered from the site is likely region-specific.
Members of the Just for U loyalty program (or MyMixx for Jewel-Osco shoppers) can enjoy free shipping and earn two rewards for every order made on the marketplace, which is equivalent to rewards earned when purchasing $200 worth of product from any other participating store. Other than these two Just for U offers, coupons are not currently available on the marketplace, though loyalty members' login also works on moreforu.com.
Background
The marketplace is just one of the ways the grocer has sought to bolster its online presence. Albertsons partnered with venture capital firm Greycroft last August to create a $50 million fund that will invest in emerging companies and technologies in the grocery sector, according to another Mirakl press release. Greycroft primarily looks for investments in web- and mobile-focused firms such as e-retailers. Its current portfolio includes stakes in Thrive Market and Boxed Wholesale.
In January 2018, the company launched Albertsons Performance Media powered by Quotient. The advertising platform lets the retailer work with consumer brands on their digital advertising and in-store targeting efforts.
As the marketplace continues to grow, so do Albertsons' overall e-commerce plans for 2019, which involve deepening technology partnerships and continuing to innovate, chief executive officer Jim Donald said during the company's recent third-quarter earnings call.
Not everyone is convinced the notion of the "endless aisle" is viable, including longtime industry veteran and P2PI advisor Steve Frenda. "If you offer an unmanaged assortment of products, customers will get frustrated and abandon the sites," Frenda says, claiming that consumers want not only access to more health-focused foods, but a lot more guidance around dietary management and allergens, too.
NOTE: Path to Purchase Institute members can view more images of Albertsons' Marketplace at p2pi.org. Members also have access to more than 2,700 images and 200 articles about marketing and merchandising activity at Albertsons, along with a full Retailer Profile outlining the chain's operations and strategies.