Albertsons Debuts Online Marketplace
Get great content like this right in your inbox.
Subscribe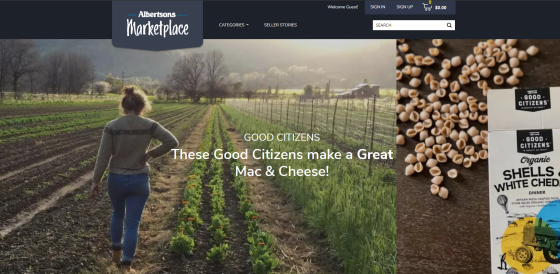 Supermarket giant Albertsons has launched an online marketplace powered by the Mirakl Marketplace Platform.
The website offers shoppers the ability to buy specialty food items as well as beauty and wellness products from a network of third-party sellers. With a focus on natural, organic, ethnic, and alternative products, the unique experience showcases hard-to-find products.
Currently, Albertsons Digital Marketplace offers more than 40,000 specialty products to shoppers nationwide, including hard-to-find spices and condiments, specific flavors of coffee, unique health and beauty products, and other health and wellness items. The site (Located at albertsons.com/ marketplace) is expected to offer 100,000-plus products by the end of the year.
The launch of the online marketplace is part of Albertsons' initiative to address trending markets and offer new products. The data collected from the marketplace will help identify consumer preferences, regionally specific needs and new trends. The grocer now has the ability to respond to shopper needs by adding assortment from its network of sellers.
For third-party sellers, the platform introduces an easy digital onboarding experience that delivers fast access to Albertsons' large consumer base, letting smaller businesses showcase products on a broader scale than they can achieve alone.
"We're making rapid strides to build digital capabilities that serve our customers and show our determination to play a prominent role in the digital food and wellness ecosystem," said Narayan Iyengar, Albertsons' senior vice president of digital marketing and e-commerce. "The online marketplace provides our customers access to hard-to-find items, increases exposure for partner products, and gives us critical data regarding demand for emerging food and wellness trends."
Sellers that are selected will benefit from product visibility and national exposure on the digital platform. In addition, the proprietary data will not only help Albertsons evaluate what innovative products to stock in its stores, but will also provide vendors insight into regions where they may consider investing in building distribution.
"By choosing the online marketplace model, Albertsons is truly distinguishing itself from the competition and Mirakl is honored to be working alongside Albertsons on this journey," said Adrien Nussenbaum, Mirakl's co-founder and U.S. chief executive officer.