Hershey Takes a Less Siloed Approach to Media Buying
Get great content like this right in your inbox.
Subscribe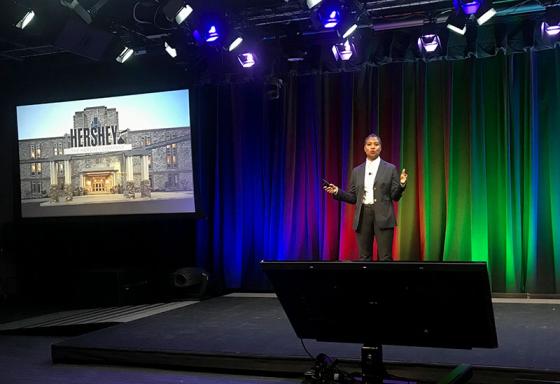 At the Advertising Research Foundation's (ARF) ShopperxScience event at Google's Chicago headquarters July 9, Hershey Co.'s Ashlee Carlisle shared how the manufacturer has unlocked the "sweet spot" when it comes to audience planning and activation by drawing inspiration from direct-to-consumer companies she believes are getting things right when it comes to data, media and activation. In other words, Hershey is thinking like a DTC brand while acting like a CPG company, taking the best of both worlds.
"We create product that has the potential to go into 98% of homes in the U.S.," said Carlisle, who leads Hershey's media audience strategy & activation. "That translates into 123 million homes ... about 250 million individuals." For Carlisle, that means billions of baskets of data she can analyze.
When Carlisle started in her role at Hershey, she saw that the brands were targeting different audiences, even on the same platform. She was tasked with breaking down silos that were preventing the company from targeting a singular audience. 
Carlisle continually asked questions to determine one appropriate audience, such as what is the reason for differences in the audiences? How were they selecting them? What were the datasets they were using to define who their audience was and how could they make them sharper? Especially considering that in the CPG world, Hershey doesn't own first-party data.
"One of the things that I've learned being from CPG land is that … we're larger. We have theses beautiful brands – they're rooted in history – but it does take time to organizationally align what we are targeting," she said.
Incorporating learnings from more agile DTC brands, Carlisle noted the common thread between DTC & CPGs: rich insights. However, she found "high-level problem areas" when activating in a digital ecosystem that's highly proliferated and fragmented, such as the way "everything begins and ends with the brief."
Hershey has a product that almost everyone in the U.S. has tried: the Hershey's chocolate bar. So everyone on the marketing team wanted to digitally reach 250 million people, according to Carlisle. However, they found that view was not right when balancing how to buy media, especially considering the constraints of buying with budget, frequency and reach. Carlisle had to bring a "level of rigor that was never brought to the table before."
The key change that happened within the planning process was shifting to an audience-first lens rather than a campaign-focused funnel. Carlisle and her team took a less siloed approach to media buying and brought all the data points along the path to purchase together to create a connected view of the consumer. They began bringing shopper data and consumer insights into the way they buy media, and built that into the brief in a way that aligns with the way they digitally connect their audiences.
"It's kind of like a Frankenstein approach of taking these data points that exist in silos [at] different points of the consumer moment of truth, and pulling them together to determine where the sales are coming from," she said. 
"To me, there needed to be a lens on who the consumer was before the brief was even written and the lens needed to come from a cross-section of data that happens across all the moments of truth," Carlisle said. Now, Carlisle's team puts audience insight first, forming a new planning process, and pairs that with media technology to sharpen the view of the consumer.