07/09/2019
CVS Drives App Usage with 'H(app)iness' Event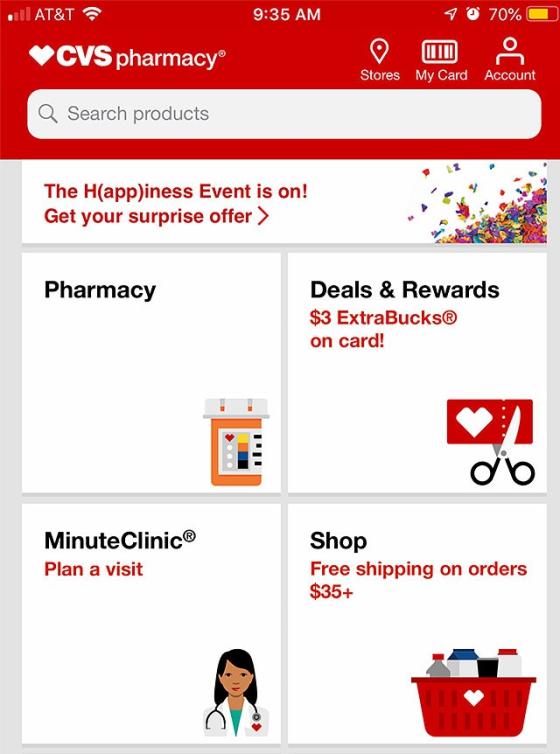 CVS/pharmacy recently kicked off its first-ever "ExtraCare H(app)iness Event," promising loyalty members a different "surprise" offer within the retailer's mobile application every Wednesday and Sunday from June 30 through July 26.
The surprise offers will vary between a new coupon, ExtraBucks reward or free product as a way to celebrate CVS' roughly 70 million ExtraCare members, according to a media release. Each offer is only available via the CVS app and only redeemable in stores for a limited time. Offer expirations vary. 
Qualifying items span face masks, nail polish, vitamins, first-aid essentials and better-for-you snacks from brands including private-labels CVS Health, Poparazzi, Beauty360, Gold Emblem Abound and Gold Emblem.
Non-app users can download the app by texting "App" to CVS-APP (287-277) or download it from the Apple App store or Google Play. Member deals are shown under the "Deals" section of the app after users have linked their ExtraCare card. An in-app display ad promotes the mystery offer and users can virtually clip the coupon when available, which will be automatically applied at checkout in stores.
Support for the sales event spans a number of features within the drugstore chain's print and digital circulars including a full-page feature, as well as display ads within cvs.com and Facebook and Twitter updates, which all direct shoppers to cvs.com/app for more details on the event and the benefits of downloading the app.
Multiple email blasts and ads also support the event, while also slyly indicating what the surprise is. For example, email ads ahead of the Fourth of July directed shoppers to the app by hinting toward "a patriotic pop of color," which in fact was a coupon for a free nail polish SKU from Poparazzi. That offer ended July 6.
CVS' H(app)iness event follows the rollout of its "Treat Yourself Well" campaign, aimed at expanding their self-care, beauty, health and wellness categories.
"The event serves as a continuation of this campaign and the new product assortment, which includes everything from collagen protein to essential oils, yoga mats to bee pollen and honey immunity products, will be available in more than 3,000 stores and on cvs.com this year," according to the release.
NOTE: For more on CVS/pharmacy, visit p2pi.org. Path to Purchase Institute members have access to more than 3,400 images and 400 articles of marketing and merchandising activity at CVS, along with a full Retailer Profile outlining the chain's operations and strategies.