AR-Infused Francesco Rinaldi Jars Have Something to Say 
Get great content like this right in your inbox.
Subscribe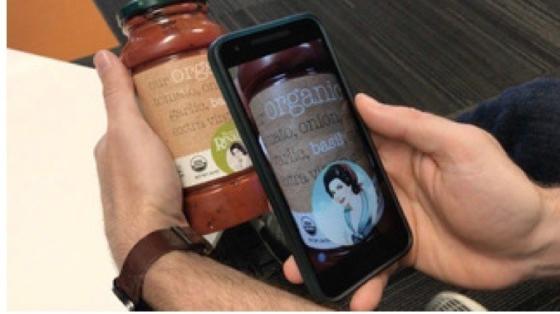 Mrs. Rinaldi, the 40-year-old brand icon behind Francesco Rinaldi pasta sauce, has found her voice through an augmented reality app that talks to consumers straight from the jar.
Speaking in an Italian accent, Mrs. Rinaldi delivers three product messages promoting the brand's creamy Alfredo sauces, its new line of organic pasta sauces and recently introduced "Living Jar" sustainable packaging. In December, the app will be supported by visual promotions in some stores.
After downloading the app, consumers can activate the AR in the grocery aisle simply by pointing their phones at Mrs. Rinaldi's image on the jar.
"The iconic Mrs. Rinaldi has graced the Francesco Rinaldi label for nearly 40 years," said Mary DeMarco, creative and branding director for Rinaldi parent LiDestri Foods. "She has always been an easily identifiable and strong symbol for the brand. Now, thanks to this new app, we can hear and see her come alive."
Francesco Rinaldi's pasta sauce originated from a family recipe that was handed down through many generations. The sauce's unique spice blend has remained unchanged for almost four decades. 
"The app enables us to reach a new generation of pasta sauce lovers by being innovative and disrupting tradition a little," said DeMarco. "Yet by featuring Mrs. Rinaldi … the brand is embracing its heritage of hard work, integrity and culture while staying true to our traditional pasta sauce recipes and Italian culture."
The Living Jar should also appeal to environmentally conscious Millennials. It is lightweight, BPA-free, shatterproof and has a significantly smaller eco-footprint than its glass predecessor. 
A few other companies are also promoting products through interactive packaging and talking apps. Australia-based wine maker 19 Crimes uses an app to bring its labels alive with stories related its historical brand name. 
Elsewhere, sports nutrition company Iovate partnered with Norwegian tech firm Thinfilm on a near field communication (NFC) initiative. When an Iovate product is tapped with a smartphone, consumers can view videos, recipes and how-to instructions. They can also instantly reorder products.