04/23/2019
Adidas Introduces 100% Recyclable Shoes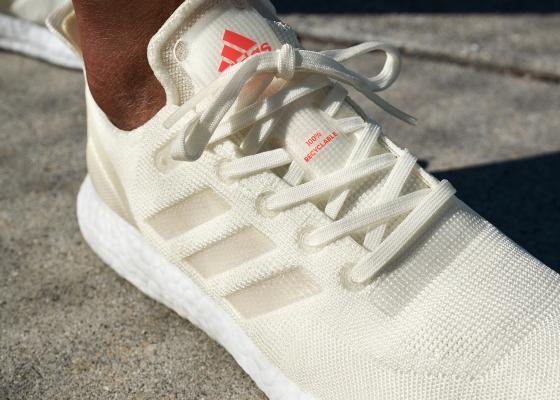 Adidas has moved closer to fully recyclable performance sportswear and a circular supply chain system with the release of "Futurecraft Loop," a first-generation, one-material running shoe made entirely from ocean plastic.
Futurecraft Loop is the brand's first 100% recyclable product that is made to be remade. Through a partnership with Parley, an organization that works to address threats to the world's oceans, the shoe maker has created zero-waste sportswear from plastic waste intercepted from beaches and coastal communities before hitting the ocean, according to the Adidas website.  
Adidas has partnered with Parley for a few years now on various sustainability efforts. In 2015, the duo unveiled shoes with an upper made from yarns and filaments reclaimed and recycled from marine plastic waste and illegal deep-sea gillnets. Futurecraft expands on that project by making the entire shoe fully recyclable. 
How it Works
Adidas' new shoes uses one material type and no glue – an idea the company calls "transformative." Each component is made from 100% reusable thermoplastic polyurethane. "It's spun to yarn, knitted, moulded and clean-fused to a boost midsole using Adidas speedfactory technology," according to a recent media release.
The goal is to avoid plastic bags, microbeads, and eventually avoid more virgin plastic in the supply chain. The idea is to offer a high-performance running show that can be heavily worn, then returned, broken down and repurposed into a new version of the same pair of shoes.
"This is the only shoe I know that you can put in a grinding machine and then you get the chance to be able to apply it back into another shoe. And we're still not there all the way, but we've made immense steps," said Tanyaradzwa Sahanga, Adidas manager of technology innovation, in a 5-minute YouTube documentary about the new shoes (view below).
"We knew this was a far-reaching vision in every way; technically and even behaviorally," Sahanga said in the media release. "There were times when it didn't seem like we could get over some of the technical hurdles — now we've made the first leap. ... We're excited to see this first step come to life as part of the beta launch."
From a supply chain view, Adidas is taking a linear process that leads products to landfills at the end of their lifecycle, and turning it into a circular system.
"The biggest obstacle externally certainly was that the idea we had was so radically against the business model of our traditional supply chain. This is how the world is going to change and you have to be part of that change, otherwise your old, traditional business model will not work anymore" Marco Kormann, director of future technology innovation at Adidas said in the YouTube doc.
Looking Ahead
In 2019, Adidas is positioned to produce 11 million pairs of shoes with Ocean Plastic by Parley. 
"Futurecraft is our design and innovation ethos," said Paul Gaudio, senior vice president of creative direction & future at Adidas. "It is about the intersection of art, science, technology, humanity, engineering and craft. It's applying creativity to reimagine the world we wish to see."
According to the company, the first-gen Futurecraft Loop shoe is rolling out as part of a global beta program with 200 leading creators from across the world's major cities. Adidas will use them to test-drive the shoes, return them and share feedback on their experience ahead of a second-gen drop.The release is part of a wider commercial release slated for spring 2021, according to the aforementioned release.
The company also aims to use only recycled polyester in all of its products by 2024. "I guess we talk about this internally as the beginning of the end of waste," Gaudio said in the YouTube doc.
Informing Consumers
Part of the journey ahead for Adidas is not only in the technology and functionality behind the product, but also in getting consumers on board and educating them about why reusable shoes are the future. Adidas has tapped help from entertainer Willow Smith to reach younger audiences. Smith is featured in a promotional video for the new shoes (see below).
The Adidas website also features a virtual journey that visually guides visitors along the process of producing the shoes. The YouTube video also delves into the process and the potential impact the shoes will have.