Wilson Launches a Custom Racket 'Shop'
Wilson Sporting Goods introduced an online platform that lets tennis players design their own rackets.
The company is claiming that the Wilson Custom Racket Shop "is the first of its kind in the tennis industry." Housed on the company's existing e-commerce site, the service was developed by Wilson LABS, the manufacturer's innovation hub, based on consumer research finding that athletes crave ways to better express themselves on the court.
"Their racket is an extension of who they are not only as athletes but, more importantly, as individuals," said Hans-Martin Reh, Wilson's general manager, racquet sports. "We built this dynamic and completely new customization experience to put the player in control of how their racket looks and feels, so their equipment expresses who they are on court. This is an exciting next step for our brand as we look for more ways [to] fuse best-in-class performance with design and really push tennis equipment into even more compelling and highly personalized areas."
Professional tennis player Grigor Dimitrov, who's currently ranked 11th in the world by the ATP (Association of Tennis Professionals) and is also a member of the Wilson Advisory Staff, is helping promote the service by playing with a Pro Staff racket he designed in the Wilson Custom Racket Shop.
"This has never been done before and everyone is going to be wowed by this experience," Dimitrov said. "What I love most is that you don't have to compromise performance to get all the benefits of designing your own racket."
Shoppers begin the experience on the mobile-friendly website www.wilson.com/customrackets by selecting from among three 2017 Wilson models: Pro Staff, Blade or Burn. They then can customize the racket by selecting from a wide variety of options, including finishes, frame colors, decals, grommets, bumpers, logos, metal letterings and grips. They also can add a unique message or name to complete the personalization.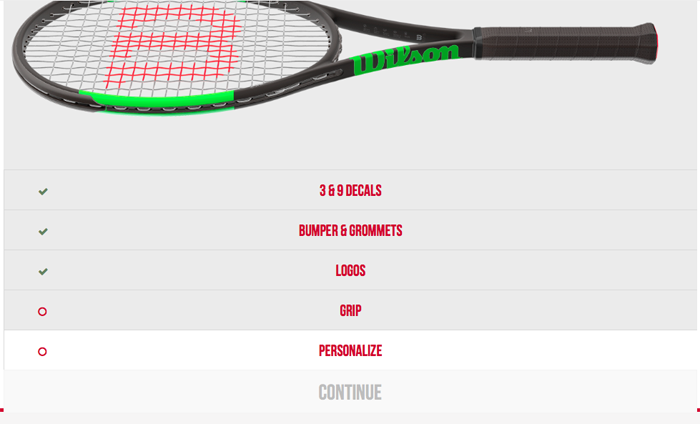 The final creations can then be shared via email and various social media networks.
Pricing for the customized rackets start at $249.99.
Wilson's e-commerce site already lets shoppers customize baseball gloves, footballs, basketballs, various uniforms and other products.
Chicago-based Wilson Sporting Goods is a subsidiary of the global Amer Sports Corp., a leading manufacturer of high-performance sports equipment, apparel and accessories headquartered in Helsinki, Finland.