03/19/2013
Post Grape-Nuts Launches New Campaign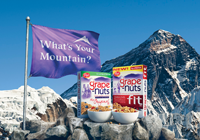 Celebrating Post Grape-Nuts' role in Sir Edmund Hillary's historic ascent up Mt. Everest 60 years ago, the iconic crunchy cereal unveils a new marketing campaign that encourages consumers to conquer their everyday mountains. Beyond advertising, the campaign engages consumers in the "playgrounds" of active outdoor and fitness enthusiasts – such as ski resorts, state parks and even "Everest-like skyscrapers" – before culminating with celebratory activities on the actual anniversary in May.
The new campaign coincides with the on-shelf arrival of new Grape-Nuts Fit, a flavorful cereal made with a medley of flavors and textures, including lightly crunchy nuggets, granola, cranberries, puffed barley and a touch of natural vanilla flavor. New Grape-Nuts Fit has 6g of protein, 42g of whole grains and is an excellent source of fiber, making it a delicious way to fuel an active day.
To remind today's adventurers that Grape-Nuts delivers a power-packed breakfast for life's everyday expeditions, Grape-Nuts is launching its new "What's Your Mountain?" tagline via Everest-themed televisions commercials (the first national TV spots for the cereal in five years), digital advertising, and sampling efforts all across the nation.
In 1953, Sir Edmund Hillary became the first man to summit Mt. Everest with Tenzing Norgay. During his trek, Hillary carried and ate Post Grape-Nuts cereal, which is packed with protein and nutritious grains, and provided Hillary with the concentrated, sustained energy he needed to conquer his mountain.
"Fueled by Grape-Nuts and determination, my father accomplished something no other person had done before when he made it to the top of Mount Everest in 1953," says Peter Hillary, board member of American Himalayan Foundation and son of Sir Edmund Hillary. "But you don't need to be a mountain climber to reach new heights in your own life. 'What's Your Mountain?' inspires all of us to persevere as we strive to reach our personal summits."
Grape-Nuts has formed an association with the American Himalayan Foundation, which is dedicated to improving the quality of life of the Sherpas, Nepalis and Tibetans throughout the Himalaya through education, health care and cultural preservation.
In conjunction with the marketing campaign launch, Grape-Nuts is partnering with a handful of 'Tower Races' or vertical stair climbs, in the month of March. Tower Racing features athletes racing up the stairs of skyscrapers, allowing athletes to conquer a modern-day 'urban Everest'. Grape-Nuts Fit is the official cereal of The American Lung Association's 'Fight for Air Climb' tower races in Las Vegas, Philadelphia, St. Louis, and Tampa.
Related Articles:
Post Foods Launches New Cereal Line
Ralcorp Names Post Holdings CEO Following Separation
Post Foods Effectively Transitions to New TPM Solution
Post Foods Improves Shopper Experience
Ralcorp Appoints Cereals Segment Executives of Post Foods