05/21/2019
Pepsi Kicks Off AR-Enabled Summer on Instagram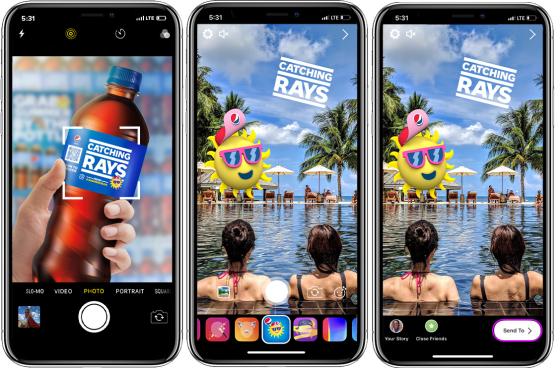 PepsiCo kicked off summer early this year through a collaboration with Instagram dubbed #Summergram.
The campaign, launched May 20, brings hundreds of custom, summer-themed, artificial intelligence-enabled filters, stickers and statements to the platform, accessible through special labels with QR codes on more than 230 million bottles and cups. (Specifically, more than 200 million Pepsi, Diet Pepsi and Pepsi Zero Sugar 20-ounce, 16-ounce and 16.9-ounce bottles, as well as more than 30 million fountain cups at numerous restaurants and food service partners.)
By scanning the QR code using a smartphone to automatically open Instagram stories, users can access hundreds of summer-themed graphics and icons, or clever, socially relevant statements such as "Turnt Not Burnt," "Catching Rays" and "Call Me on My Shell Phone." The promotional labels depict the statements in both Spanish and English.
"We are so excited to work with Instagram and bring some of their newest technology directly to our most loyal consumers. We know our fans love sharing their favorite moments on social media, and the summertime lends itself to so many post-worthy moments and occasions," said Todd Kaplan, Pepsi's vice president of marketing, in a press release. "The breadth of our [program] will ensure that there is something for everyone."
PepsiCo also sought help from two "prolific" social media personalities, model and author Chrissy Teagan and music producer DJ Khaled, by giving their fans a look into their own Pepsi #Summergram stories.
Also as part of the launch, four major cities hosted special events, each of which included a six-foot-tall inflatable Pepsi icon, as a way to create especially "insta-worthy" moments.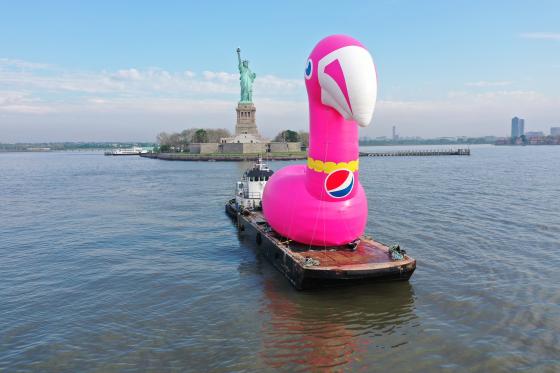 New York City received a giant flamingo floatie traveling around Manhattan, with Teigen and Khaled attending.

Chicago received a giant crab inflatable floating around Navy Pier during a free, 3-hour public event.

Los Angeles received a Unicorn floatie, which traveled from Long Beach to Malibu for its event.

Miami also received the flamingo after it traveled along Biscayne Bay for its event.
In addition, Pepsi will elevate the AR filters and summer occasions across 25 TV spots and thousands of out-of-home billboards nationwide.