05/06/2019
Para'Kito Uses AR to Attract Repellent Buyers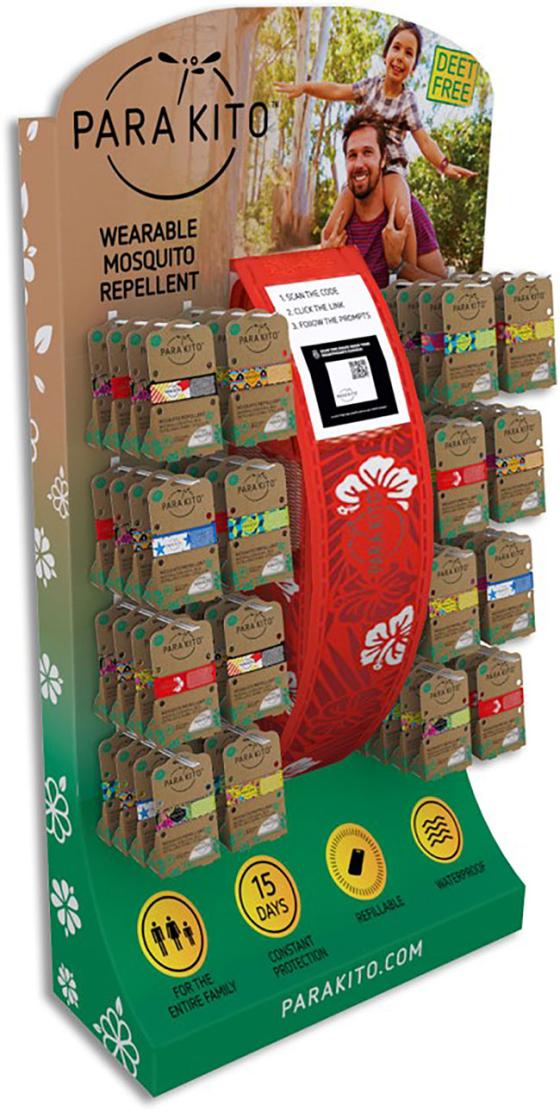 Mosquito repellent brand Para'Kito has brought a unique twist to merchandising in the category with an in-store display that uses augmented reality to engage, entertain and inform shoppers about its wearable products.
Para'Kito teamed with Atlanta-based display maker Georgia-Pacific to bring the idea to life through an interactive floorstand. To engage, shoppers scan a QR code on the display that directs them to go.parakito.com, where they can choose from a menu of three AR-enabled experiences:
A 60-second, camera-based mosquito repellent game.
A three-question quiz to determine the ideal product for their needs.
A short video starring professional surfer Maud Le Car wearing a Para'Kito product.
Para'Kito chief executive officer Patrick Goguillon told P2PI that the company wanted to figure out a way to make more product information accessible to shoppers in stores. "With this whole technological revolution happening, we know that a lot of people use their phones in the stores, and so that's what we worked on first," he said.
Partnering with Georgia-Pacific on this made sense, according to Goguillon, since GP was working on developing AR and camera-recognition technology and looking for a partner for trial at the same time that Para'Kito wanted to innovate at retail. 
"We brought [a really innovative product to the U.S.], something that didn't exist, and the whole challenge when you bring new products and new concepts is to be able to explain it to consumers," Goguillon said. 
"The key to successfully executing augmented reality at retail is to understand the shopper and what will resonate with them," said Brian Hutchinson, director of shopper marketing at Georgia-Pacific, in a media release announcing the program. "For the Para'Kito display, we recognized an ideal opportunity to use this technology to both engage and inform shoppers in a way that helps them make a smart purchase."
The displays are already in such chains as Whole Foods, REI, Ace Hardware and H-E-B but continue to roll out across the U.S. Para'Kito, which began operations in 2007 in Europe and 2014 in the U.S., also offers direct-to-consumer sales via its website. The company's products also are available through e-commerce giant Amazon.com, where Para'Kito employs its own widget.
Goguillon views the new AR display as a game-changer that has already gained the company a lot of attention through events and press. Para'Kito's announcement of the display launch gained millions of impressions, which Goguillon said is evidence of the huge interest from the industry in differentiated in-store and online experiences that offer shoppers something unique. "It's all about bringing something different to the retailer."
Coinciding with the new display, Para'Kito also rolled out the annual color and design updates for its wearables. "Every year, we bring new things to the market. If you look at the mosquito market, it's a big category. The way we've been able to really be present ... and have a lot of availability and distribution is [by bringing] innovation," such as the category's first natural products and a roll-on repellent applicator, Goguillon said.
This AR experience was Para'Kito's way of helping consumers understand why they should choose the brand. Goguillon said that the company also raises awareness via public relations outreach and product spotlights on talk show segments. As one recent example, Para'Kito is included in the May edition of O, The Oprah Magazine as a must-have product.