Jewel Takes Advantage of #NotSponsored Ads
Get great content like this right in your inbox.
Subscribe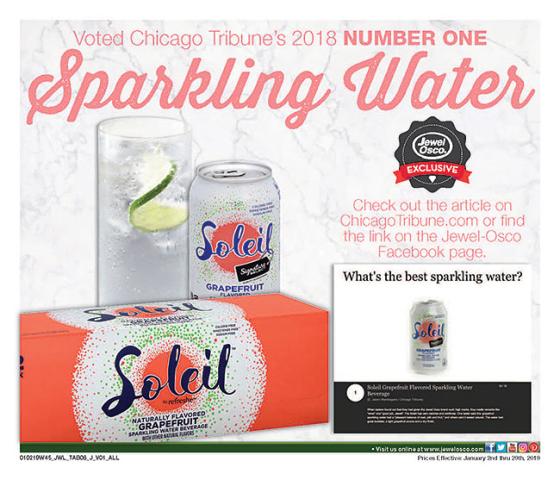 What's just as valuable if not more valuable than #Sponsored ads? #NotSponsored ads.

Albertsons Co.'s Jewel-Osco is leveraging some positive news coverage that didn't cost the grocer a dime after private label Signature Select sparkling-water line Soleil was ranked as the 2018 No. 1 sparkling water by the Chicago Tribune, which recently blind-tasted 11 grapefruit-flavored sparkling water SKUs from brands including Coca-Cola Co.'s LaCroix as well as Target, Aldi and Whole Foods private labels.
Following the Chicago Tribune's Nov. 29 "LaCroix may be No. 1 selling sparkling water, but does it taste best? We pit it against 10 brands" article, the chain dedicated a full-page feature in its Jan. 1 Big Book of Savings boasting of the accolade and directing shoppers to chicagotribune.com or Jewel's Facebook page to read the article. The retailer supported with a Dec. 6, 2018, Facebook update and a Jan. 2 email blast titled "Voted #1 Sparkling Water in Chicago."
Jewel-Osco also used the opportunity to cross-promote items. Facebook, Twitter and Instagram update on Dec. 30, 2018, linked to the article while asking consumers "why not mix the best sparkling water with vodka?!" and showcasing a picture of a package of the grapefruit Soleil next to a bottle of New Amsterdam's grapefruit vodka.
This isn't the first time Jewel has used unpaid positive content to elevate its products. Just a few weeks ago, following the expansion of its newest private label Signature Reserve, the grocer took to its Instagram story to repost a video from a user advocating for one of its new SKUs while informing her followers it was not a sponsored post. And last week, Jewel reposted an image from Instagram user @chicfromchicago's story of doughnuts in a Signature Select box stating "@jewelosco has the best donuts & they're $5 for a dozen."
At a time when social media newsfeeds are filled with hashtags like #Sponsored and #Ad, the #NotSponsored posts are rarer to come by, and Jewel-Osco is betting they can particularly spark interest by standing out as more organically authentic.
NOTE: Path to Purchase Institute members can view more images of Albertsons private labels at p2pi.org. Members also have access to more than 2,700 images and 200 articles of marketing and merchandising activity at Albertsons Cos., along with a full Retailer Profile outlining the chain's operations and strategies.