Hefty Heads Back into the Ring for New Campaign
Get great content like this right in your inbox.
Subscribe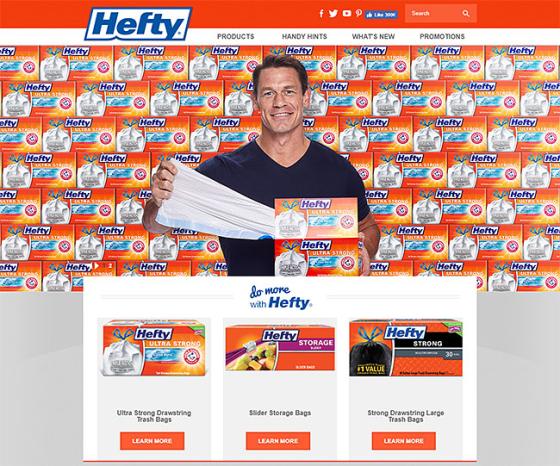 For the third year in a row, Reynolds Consumer Products' Hefty has tapped WWE star John Cena for a "fun and engaging" multimedia campaign.
Created by Havas Chicago, the campaign leverages Cena's popularity to plug "the strength, quality and low price of [Hefty's] premium trash bags," particularly, Hefty Ultra Strong trash bags made with Church & Dwight's Arm & Hammer odor control, according to a media release announcing the launch. The unique trash bags were first introduced back in 2013 after the two manufacturers joined forces.
"[Cena] has truly invigorated the Hefty brand as our spokesperson. His quick wit and connection with the audience, as well as the product, has brought the brand to life in a fun and engaging way," said Lisa Smith, vice president of marketing at Hefty in the same release, who thinks consumers will "love" the new ads.
Launched Feb. 11, the campaign comprises several creative ads exemplifying "a mix of fun and burly wittiness that have become synonymous with the Hefty brand" that will appear on TV, digital platforms and across social media, according to the release.
One ad dubbed "Toddler" (see below) shows off the "strength and affordability" of Hefty as Cena breaks through a wall of Hefty trash bags, wowing two woman and a baby.
"Our work with [Cena] continues to bring a completely new and unexpected energy to the trash bag category," said Karen Goodman, group creative director at Havas Chicago. "For these new spots, we wanted to continue the narrative John has helped build, while pushing the brand forward in its tone and messaging."