Gillette Lets Consumers Make 3D-Printed Razor Handles
Get great content like this right in your inbox.
Subscribe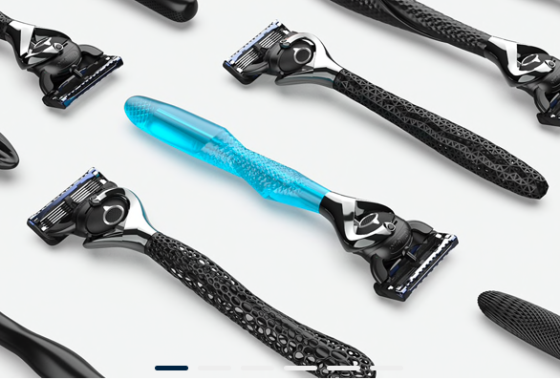 Procter & Gamble's Gillette has introduced Razor Maker, an online assortment of products whose handles can be customized in a choice of 48 three-dimensional designs and seven colors.
The handles will be produced at Gillette's Boston facility using stereolithography, a technology developed by 3D printing giant Formlabs, to hold either Mach3 or Fusion5 ProGlide cartridges. They will be sold via a dedicated razor-maker.com website and manufactured in limited quantities. Orders will be shipped within two to three weeks.
"Historically, 3D printing has been involved in the development or manufacturing for products people interact with every day. But consumers have had little interaction with 3D printing itself," said David Lakatos, chief product officer at Formlabs. "These new custom razor handles are the next step toward changing that dynamic."
"Gillette is in the business of helping men look, feel and be their best," said Pankaj Bhalla, director of Gillette & Venus North America. "That means giving them grooming options that not only meet their shaving needs, but also match their lifestyle, look and budget.
Prices start at $19 for a partially 3D-printed handle with black, rubberized grip; a fully printed handle is $25. Chrome handles are $39 and $45, respectively. Text can also be added to the design. Each handle comes with one razor cartridge. Customers can order four additional cartridges for $15. Color choices are black, white, red, blue, green, grey and chrome.
Razor Maker is not Gillette's first customizable product. Earlier this year, the brand started letting consumers personalize ProShield razor handles with photos, text and other graphics. Shoppers choose from roughly 200 pre-populated graphic options or can upload their own designs and text.
These forays into personalized handle designs are among several recent initiatives undertaken by Gillette to recapture lost market share and reclaim its position as the leader in category innovation. In recent years, the brand has faced stiff competition in the U.S. and Canada from Unilever's Dollar Shave Club and other digital native, direct-to-consumer startups.
In early 2018, the normally premium-priced Gillette unveiled a line of three- and five-blade disposable razors priced under $10.
Procter & Gamble ranked third on CGT's 2017 list of the "Top 100 Consumer Goods Companies" with $65.3 billion in revenue.