01/03/2019
CVS Shoppers Make a 'Holiday Dash'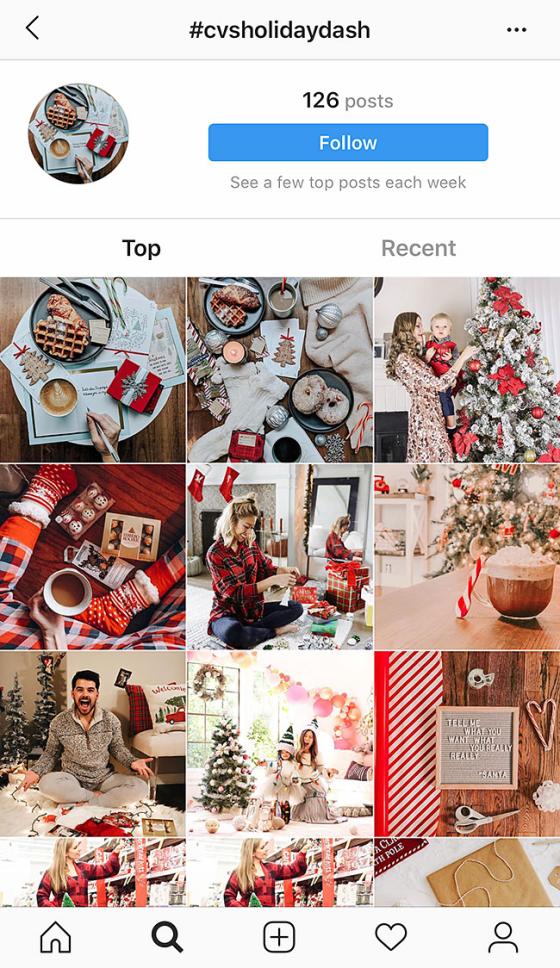 CVS/pharmacy took much of its holiday efforts online this year, expanding its reach with tactics such as tapping social influencers and creating holiday-themed how-to videos. Hallmark stood out with exclusive merchandise and a plethora of supporting marketing materials, with other brands helping round out the activity to position CVS as a one-stop shop for all holiday necessities.
Instagram
A 30-second co-op TV spot presented the retailer as the place to go for holiday items, particularly Hallmark cards and decor. CVS shared a short clip from the video on its Instagram story, saving it to its profile with the platform's "Story Highlights" capability.
Titled "Holiday Dash," the highlight also included lifestyle blogger and social influencer Alison Barker (@allthingsalison), who took over CVS' Instagram story ahead of the holidays as she took a trip through one CVS' holiday aisles, pointing out gift ideas, inspiration and her "personal favorites."
Instagram was an especially hot platform for commissioned posts. CVS tapped a slew of influencers, in addition to Barker, for sponsored posts using the hashtag #CVSHolidayDash. Some influencers particularly elevated Hallmark in their posts, while others simply positioned the retailer as the go-to store for all holiday shopping. 
YouTube
Interestingly, the drugstore chain also cross-marketed its influencer partners by reposting and tagging their sponsored posts or videos from its own profile, creating a mutually beneficial partnership as well as expanding its reach. For example, CVS recruited vloggers such as Jeanine Amapola for a video (view below) on its own YouTube channel to reveal some of her favorite gift ideas for the holiday season including beauty picks from CVS as well as other items not available at the retailer such as an Apple Watch. The video's description directs to cvs.com as well as Amapola's own YouTube channel.
The retailer additionally created six 31-second holiday-themed YouTube videos including "How to Create a Disney-Themed Tree," "How to Personalize a Stocking" and "Introducing Hallmark Paper Wonder Cards" (view below), which shows Hallmark artist "Daniel" plugging the manufacturer's recently launched Paper Wonder cards at CVS. All the videos were shared on CVS' Facebook and Twitter pages.
ExtraCare Promotions
The aforementioned "Holiday Dash" highlight also plugged CVS' holiday loyalty offer awarding ExtraCare cardholders who spent $30 on qualifying items a $10 cash card with no expiration, like it did in 2017. Last year's offer kicked off on Black Friday and ran through Dec. 9, while this year's ran from Nov. 4 through Dec. 15.
Eligible items including home decor, animated plush and select Hallmark ornaments were marked with a red Santa hat symbol in weekly chain circulars and with yellow price labels in stores . Additional support for the holiday incentive spanned nearly daily email blasts boasting of eligible items and other savings opportunities, as well as display ads on sites like overstock.com, radio ads, and Facebook, Twitter and Instagram updates including sponsored posts from CVS.
In addition, many sponsored social media updates and email ads dangled $3 in ExtraBucks rewards with purchase of three Hallmark cards, showcasing the Paper Wonder cards and directing shoppers to a brand shop within cvs.com. A slew of other ExtraBucks offers were also often spotlighted, including $15 in ExtraBucks rewards with $75 purchase of select gift cards.
Some participating brands got more of the spotlight than others. Johnson & Johnson's Tylenol, for example, received a full-page feature in CVS' Nov. 4 circular. Other brands including Procter & Gamble's Pantene and Crest as well as private label CVS Health also participated.
In Stores
In stores, Hallmark unsurprisingly dominated much of CVS' seasonal aisles. Cards including CVS exclusive Hallmark holiday cards were stocked in "exclusively at CVS" shelf trays, as were exclusive licensed Peanuts ornaments (priced at $7.99) and novelties alongside licensed Rudolph and Disney ornaments, also from Hallmark. Some stores also stocked the ornaments atop in-line displays in card aisles, while others were put on display using a "Hallmark Keepsake" endcap. Hallmark holiday bags and wrapping were merchandised on floorstands. Hallmark's new Paper Wonder cards received the spotlight on floorstand carts near snack aisles at some locations.
The retailer also exclusively merchandised:
Multiple SKUs from L'Oreal USA's L'Oreal Paris, Maybelline New York and Essie brands via an account-specific endcap display near registers at one location in Chicago. Stocked alongside a variety of other cosmetics from the brands, the SKUs comprised three Essie shades including "All Dressed Up" and "First Impression," a Maybelline "Superstay matte ink" bundle of three, and a "Burgundy Kit" from L'Oreal Paris. An "only at CVS pharmacy" message on the display as well as the burgundy kit's packaging touted the products' exclusivity. The Essie SKUs are available online, while the kits are not (though the SKUs found within are). Another CVS location in Chicago stocked the SKUs in shelf trays resting on a "Healthy Skincare Center" vanity in the cosmetics department.
Hershey Co.'s limited-edition Reese's "peanut butter lights" candy via endcaps outfitted with an account-specific header. A half-page FSI plugged the SKU as well as Hershey's kisses and miniatures with an ExtraCare coupon for $1 off two bags from Dec. 2-8, available at in-store coupon centers. Multiple circular features supported.
Among other brand activity at the drugstore chain:
Lindt & Sprungli's Lindor and Ghirardelli, Russell Stover and Ferrero's Ferrero Rocher were stocked on dedicated floorstands and endcaps throughout stores.
Brown–Forman's Jack Daniel's formed a Christmas tree-shaped aisle display using its bottles and case stacks.
The Clorox Co.'s Burt's Bees deployed multiple floorstands including one stocking "lipcare for the holidays" and another encouraging shoppers to "give the gift of nature" this holiday season.
Ferrero's Tic Tacs offered SKUs including holiday flavors "merry elf mix" and "candy cane" on a themed sidekick positioning the confectionary as "perfect for stocking stuffers."
In addition, CVS deployed an in-store signage package spanning red and white, holiday-themed headers, power wing signs, wobblers, violators, shelf trays, and other P-O-P material boasting of the holiday cash card incentive or depicting messages like "little things to make your holiday shine," and categories including "stocking stuffers" or "gifts." The retailer stocked private label Merry Brite ornaments, lights, etc. in-line in the seasonal department, and gift wrap in nearby bins.
The retailer additionally offered:
Extended holiday hours at some stores from Dec. 16-23, promoted via sponsored Instagram updates and circular features.
Free shipping with no minimum purchase through Dec. 31 and guaranteed holiday delivery for purchases made by Dec. 18.
A free, downloadable winter coloring sheet, promoted via multiple social media updates. 
Path to Purchase Institute members can view the complete photo audit of CVS' holiday campaign at p2pi.org. Members also have access to more than 3,400 images and 400 articles of marketing and merchandising activity at CVS, along with a full Retailer Profile outlining the chain's operations and strategies.