Costco Bets on Prestige Beauty to Help Drive Growth
Get great content like this right in your inbox.
Subscribe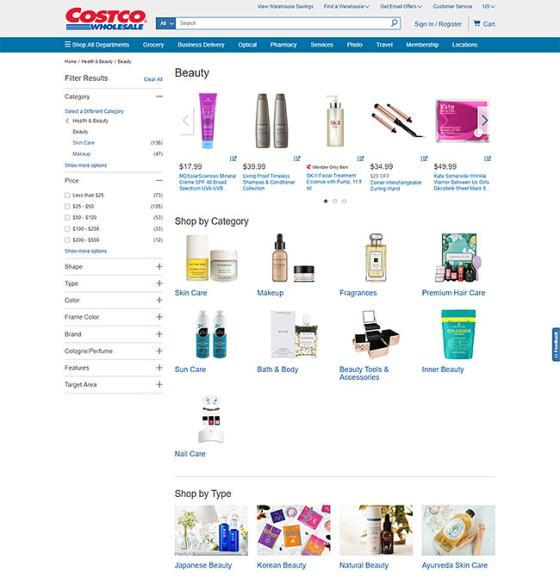 Costco found an unlikely friend in prestige beauty while seeking to make up lost ground in e-commerce, appeal to younger, more diverse shoppers and provide more quality to its members.
Despite being well-known for offering more bang for your buck, Costco found an opportunity to help achieve all three goals by embracing trendy and prestige beauty and personal care products (many of which are only available on costco.com), tapping into the booming beauty industry that has most other major retailers elevating their game as well. The health and beauty category already was one of Costco's top growth-drivers in fiscal 2018 and the first and second quarters of fiscal 2019.
Integrating Prestige 
Costco has managed to introduce substantial markdowns on products from even prestige brands that historically would not be found at the wholesale club, such as Japanese cosmetic company FANCL's Boscia, Estee Lauder's Becca Cosmetics and Clinique, as well as Japanese skincare brand Adsorb, which sells at Neiman Marcus, Dermstore and now also costco.com.
"Everything is blending and changing," Tom Winarick, president and chief executive officer of Bio-Boutique Beauty Lab, U.S. distributor for Adsorb, told BeautyIndependent.com last October. "I look at brands like NYX, for example, and how it's crossed over into different channels of distribution. It's in mass [merchants] like Walmart, and also in Urban Outfitters and Macy's. It really comes down to sales. No one used to think about a department store or specialty retailer carrying a $5 lipstick. They had to do it otherwise they were losing sales to other people."
Pricing Prestige the Costco Way
Winarick noted that Adsorb's three-product line (now four-product line) on costco.com (which first hit the U.S. in early 2018 exclusively on adsorbbeauty.com then branched out to Costco) are being priced at about a 10% discount. A set of six full-sized facial masks from another high-end, trendy skincare brand, Peter Thomas Roth, is currently priced at $53.99, containing individual items that typically range in price from $20-$80. While nonmembers can shop costco.com, the retailer reserves most prestige beauty items on its website for members only as a way to add value to memberships.
"We are seeing higher sign-up rates from younger generations and a more diverse membership base," president and chief executive officer Craig Jelinek wrote to shareholders in Costco's fiscal 2018 annual report. "This shift can be partially attributed to our buyers' increased focus on products that have an appeal that spans generations as well as sourcing products globally to expand cultural and ethnic offerings."
Reaching Shoppers
Costco began offering Korean or Korean-inspired products almost two years ago, and launched an 11-piece Case Full of Seoul set created by K-beauty startup Umma Official last April. It has since further expanded on its cultural and ethnic offerings online by tapping into areas many retailers have yet to set their sights on. Under the "Beauty" section on costco.com, shoppers can choose from different "Types" of beauty care including Japanese (J-beauty), natural beauty and Ayurveda skin care, which is a natural and holistic care system originating from India. Costco additionally lists seven different product categories including "premium hair care," "inner beauty" and "nail care." 
Costco has been elevating prestige, trendy and indie products with exposure and prime positioning in frequent email blasts, within costco.com including on the home page, in The Costco Connection and on social media. For example, the same K-beauty startup behind the skin care Case Full of Seoul set launched another curated beauty box on March 1, this time a seven-piece set of Korean hair care dubbed A Good Hair Day of Seoul that Costco showcased using a home page carousel ad as well as email ads at launch.
Additionally, as part of its J-beauty initiative, Costco aims to educate shoppers. In an article dubbed "Skin Game" by Suja Natarajan in the January 2019 edition of The Costco Connection, Natarajan states "while South Korean K-beauty is known for its innovative, affordable beauty concepts, its conservative Japanese counterpart, J-beauty, focuses on a simple, minimalist and no-frills regimen for long-term results," while also pointing to a variety of "essences" (which are essentially a hybrid between liquid serum and toner; a step in the k-beauty skin regimen) available at warehouses and on costco.com including SK-II, Adsorb and Lena & Lina.
Costco's pursuit for expanding its beauty assortment likely followed a question many retailers are grappling with today: how to appeal to millennial shoppers? Costco's primary demographic skews older to shoppers who own homes, have families and have household incomes over $100,000. If the warehouse chain's latest earnings are any indication, its efforts may be paying off.
NOTE: Path to Purchase Institute members can view more images of Costco's beauty assortment at p2pi.org. Members also have access to more than 1,100 images and 120 articles about marketing and merchandising activity at Costco, along with a full Retailer Profile outlining operations and strategies.