CGT Names Gulin-Merle 'CMO of the Year'
Get great content like this right in your inbox.
Subscribe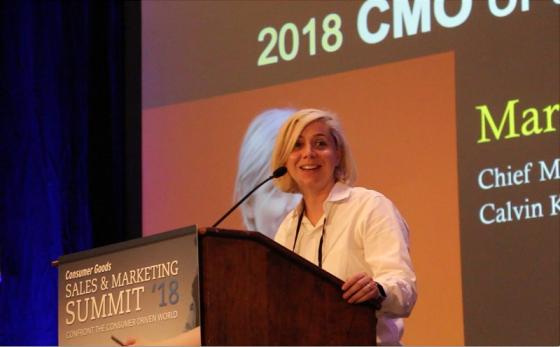 Consumer Goods Technology presented its fifth-annual "CMO of the Year" award to Marie Gulin-Merle, Chief Marketing Officer of Calvin Klein, during a special ceremony at the 2018 Consumer Goods Sales & Marketing Summit in New York City on June 19.
 
This one of-a-kind award is presented to a CMO who has made a demonstrable impact on his/her consumer goods organization through the implementation and successful use of new marketing strategies, technologies and/or processes.
"Marie's efforts helping L'Oréal become a digitally savvy, consumer-focused marketing organization provide a blueprint for the change that's needed in the consumer goods industry," said CGT editor-in-chief Peter Breen. "Apparently, Calvin Klein saw the same thing we did."
Gulin-Merle served as chief marketing officer for L'Oréal USA 2014 until earlier this spring. During her time at L'Oréal, she transformed the company's marketing functions and reinforced its industry leadership, particularly in the areas of digital innovation, consumer and market intelligence, media investment and data-driven marketing. She ushered in a number of firsts for L'Oréal: first digital up-skilling curriculum for marketers, first data capabilities, first in-house content studio, and first-to-market partnerships with a number of major platforms and publishers.
Before taking on the CMO role, she worked in steadily rising positions within L'Oréal, including global head of integrated marketing communications at corporate headquarters in Paris from 2010 to 2014. There, she reinvented many brand programs across 60 countries and eight regions, and also launched the award-winning Makeup Genius app.
"I'm always humbled to be sitting here. I started as a web master, and today I'm doing all these things that didn't exist 20 years ago," says Gulin-Merle. "One thing that I got wrong was that it was all about technology. But it's about the human interaction – the different teams and the camaraderie."
Initial nominations for "CMO of the Year" were fielded in early 2018 by CGT and submitted by various members of the consumer goods community. The magazine's editors narrowed the nominations down to five deserving individuals who were presented to our esteemed Editorial and Research Advisory Boards for voting. Also recognized as finalists were Lee Applbaum of Patron Spirits International, Antonio Lucio of HP Inc., Scott Parker of Atkins Nutritionals, and Justin Woolverton of Halo Top Creamery.
CGT presents several awards throughout the year to members of the consumer goods community. Click here to view the full program list and to make nominations.