12/19/2018
CGT December 2018: A Year of Living Digitally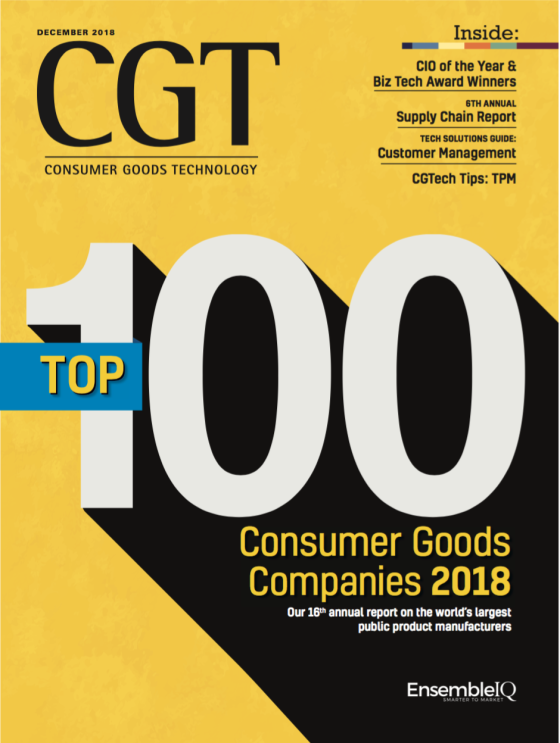 The full digital edition of CGT's December 2018 issue is available here. The table of contents can be found below.
I don't want to overstate things, but it seems pretty clear that all the discussion we've been having about digital transformation over the last few years seems to have taken hold.
As we learned while putting together the content for this issue, it's no longer necessary to specifically ask if consumer goods companies are digitizing (or is it digitalizing?) their business activity to address change. Digital transformation is now driving not only the IT agenda, but the entire business agenda.
It is certainly the primary catalyst for the changes discussed in our 6th annual Supply Chain Report, although in the interest of full disclosure I should note that we deliberately set out to examine the ways in which e-commerce is forcing CGs to modernize their traditional practices. If you want to learn about those ways, check out the report. (A special thanks to Simon Ellis of IDC Manufacturing Insights and Mario Vollbracht of Oracle for their contributions to this year's content.)
On the other hand, we definitely did not plan to focus exclusively on best practices in digital transformation through our annual Business Technology Awards program. But that's exactly what happened anyway.
If you want great examples of the potential benefits of digital tools and technologies, read about the many digitally driven accomplishments of our CIO of the Year, Unilever's Jane Moran; or the e-commerce business model of SMB Award winner Brandless; or the VR-driven collaboration in our Customer Management Award case study with Coca-Cola and Walgreens; or, maybe most of all, the complete end-to-end business transformation underway at Supply Chain Award winner Nike.
It's not as easy to spot the digital transformation lurking within our "Top 100 Consumer Goods Companies" for 2018. But three of the four CGs mentioned above are featured prominently on the list (among the 15 largest companies, in fact). And our profiles of the top 10 companies provide some more good examples of digital change. The message? Even the industry's oldest, largest enterprises are reinventing themselves.
Finally, the latest edition of our Tech Solutions Guide series features a quartet of subject matter experts discussing the impact of e-commerce on traditional methods of customer collaboration.
So, as we close out 2018 and head into a new year that will, most certainly, be filled with more challenges and opportunities, we here at CGT would like to wish all of you in our audience Happy Holidays and great success in the digital future that's ahead of us.
Welcome New Board Members
Our always dedicated Executive Advisory Council has been even busier than usual lately. In addition to helping make our October League of Leaders meeting a huge success with its thought leadership, the group held elections to expand its ranks to a robust 18 members.
We'd like to express our deepest gratitude to the following industry leaders who've agreed to join the board and help guide CGT into the future with their experience and expertise: Tony Costa of Bumble Bee Foods, Kerry Farrell of Eversight, Werner Graf of Mindtree, Rich Scuteri of L'Oreal, and Cheryl Williams of Wakefern Food Corp.
You'll hear more about them in the coming months, but since they've already started in their roles, we wanted to officially welcome them here.
To read the rest of CGT's December 2018 issue, click on the article links below:
Top 100 Consumer Goods Companies
Business Technology Awards:
     CIO of the Year
     Customer Management Award
     Supply Chain Award
     SMB Award
Supply Chain Report 2018
Tech Solutions Guide: Customer Management
CGTech Tips: Trade Promotion Management