Buzzfeed's Tasty Gets in the Ice Cream Game via Nestle
Get great content like this right in your inbox.
Subscribe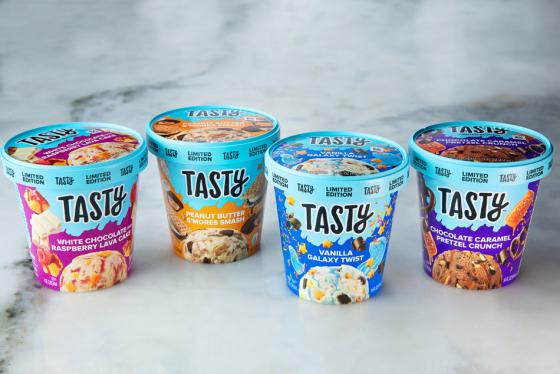 Tech-powered global media company Buzzfeed is getting in the frozen treat space by launching a limited edition-only line of Tasty-branded ice cream through a deal with category giant Nestle.
The Buzzfeed business made famous by its how-to recipe videos, Tasty began rolling out the first four of 12 colorfully packaged ice cream SKUs to stores. (The flavors are Vanilla Galaxy Twist, Peanut Butter 'S'mores Smash, Chocolate Caramel Pretzel Crunch and White Chocolate Raspberry Lava Cake.)
Buzzfeed is billing the Tasty line as the "first of its kind" because no other ice cream brand offers exclusively limited-edition flavors, according to a media release announcing the launch. Tasty has two more four-SKU rollouts planned for 2019.
"Tasty's accessible lens on cooking and food has changed the way people are eating all across the world. We're excited to bring Tasty's bold and fun takes on recipes we know people love to ice cream," said Talia Halperin, general manager of Tasty commerce. "Our exclusively limited-edition ice cream gives us the chance to do what we do best: continue innovating in the kitchen and sharing our tastiest creations with consumers."
The deal with Nestle entails manufacturing and distribution. "Nestle's commitment to making great tasting and high-quality ice cream paired with Tasty's daring and different approach to recipe development created the perfect team to bring a whole new approach to the ice cream aisle," said Kerry Hopkins, manager of ice cream innovation at Nestle Dreyer's. "We think ice cream is season-less, so not only do we get to share these first four flavors – inspired by Tasty's dedicated fans – but ice cream lovers can look forward to fresh new flavors rolling out every few months for the rest of this year."
Speaking of Tasty's dedicated fans, the social food network boasts roughly 12 million YouTube subscribers and more than 98 million Facebook followers.
Ice cream innovation has been on the rise lately as more consumers seek unique flavors as well as dairy-alternatives and low-sugar options. Ice cream launches in 2019 are likely to continue pushing the envelope to reflect this shift in consumer demand.
Just as Tasty made the move, Unilever's Ben & Jerry's announced both its chocolate chip cookie dough and chocolate caramel cluster flavors have gone vegan, bringing its total number of non-dairy options up to 11. Prior to that, Nestle's Haagen-Dazs announced a new line of alcohol-infused products.