03/20/2019
Bounty Taps Tasty for 'March Madness' Video Campaign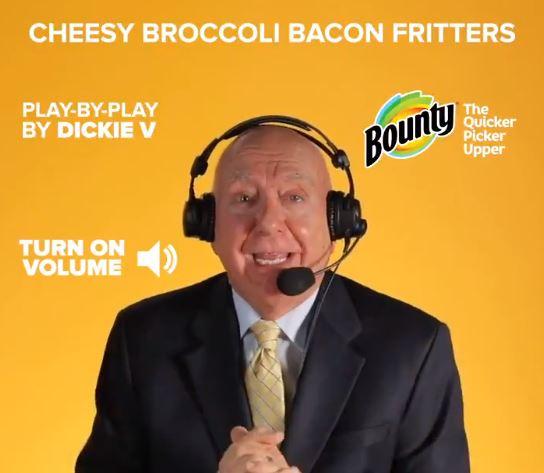 Procter & Gamble's Bounty is leveraging the hype surrounding "March Madness" by joining forces with BuzzFeed's Tasty social food platform for a social media video campaign.
A two-minute, Tasty-style how-to video featuring Hall of Fame college basketball analyst Dick Vitale is the first of two videos designed to showcase cooking and cleanup hacks using Bounty paper towels that are fit for "the quick, impromptu nature of the tournament," according to a press release from P&G.
"Tourney time's quick paced nature is a great place for the 'Quicker Picker Upper' to play," Jacques Hagopian, Bounty brand director said in the release. "And who better to celebrate the surprising wins, upsets and all the spills and messes in between than with Dickie V."
In the video, an animated Vitale taps into his sports commentating ability to give "play-by-play calls on how to make the best fritters for tourney time" during a recipe demo for Cheesy Broccoli Bacon Fritters. Vitale even throws in some of his signature catchphrases, like "Awesome Baby," which is also used as a campaign hashtag.
"I've been a sportscaster for over 40 years, and tourney time never gets old," Vitale said in the release. "If I could join Bounty in providing fans with some quick food inspiration for their celebrations, then that's a big W!"
The party-themed recipe video launched on March 18 via the social media accounts of Tasty, Bounty and Vitale. The second video is slated to roll out during the "March Madness" NCAA College Basketball Tournament, which runs through April 8.