01/30/2019
BevMo! Tests Voice-Enabled On-Shelf Shopping Assistant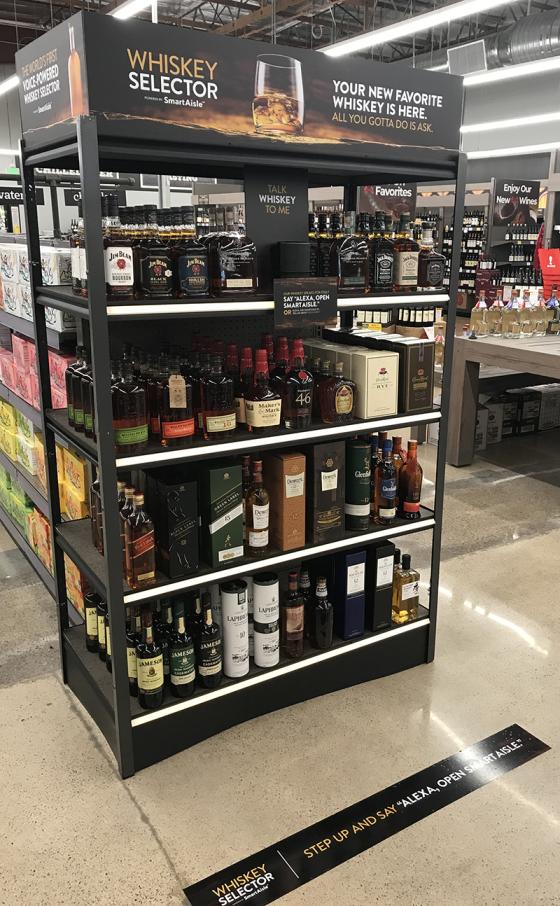 Specialty beverage retailer BevMo! is testing the voice-activated in-store shopping assistant introduced by The Mars Agency in early 2018. The five-store pilot is running in five California locations through the end of March.
The SmartAisle shopper platform interacts with shoppers to deliver product information and selection recommendations. The proprietary, patent-pending tool consists of an intuitive voice interface, an artificial intelligence engine and navigational LED shelf lights. The test will take place at BevMo! stores in Oakland, San Jose, Santa Clara, Mira Mesa and Carmel Mountain.
"We're excited to partner with The Mars Agency and test the SmartAisle platform," said Tamara Pattison, the 170-store retailer's chief marketing & information officer. "This simply enhances our commitment to using technology to offer better customer experiences and this kind of forward-thinking, in-store solution is totally in line with our strategy."
The SmartAisle system is embedded in a stand-alone merchandising display in store lobbies. The display stocks roughly 50 bottles of whiskey, an Amazon Echo smart speaker, and custom signage that explains how to launch the experience.
Once initiated, the system guides shoppers through a few simple questions about their whiskey preferences (type, taste profile, price, etc.), then filters the assortment down to three recommendations by reading out names and custom descriptions. Shelf lights pinpoint the locations of the recommended bottles. Alternatively, shoppers can ask about a specific bottle or brand and get recommendations with similar taste profiles. 
The experience is designed to last no longer than two minutes. To up the engagement factor and avoid repetition, the SmartAisle mixes in additional product information, whiskey facts and even some jokes.
"Voice is poised to surpass mobile as the preferred digital shopping interface within the next five years. Voice commerce is expected to grow from $2 billion today to $40 billion by 2022. When it does, we'll be ready to seize the opportunity," stated Ethan Goodman, senior vice president of innovation at The Mars Agency. 
The concept was first unveiled last February, when Mars partnered with an independent retailer in Manhattan to test an earlier version of the SmartAisle. In a two-month pilot, year-over-year sales of featured bottles increased 20%. The test also garnered positive feedback from shoppers about the experience.
BevMo!'s 170 stores are located throughout California, Arizona and Washington. In addition to both alcoholic and non-alcoholic beverages, the retailer merchandises complementary products such as specialty foods and snacks, cigars, glassware and related bar and wine accessories. 
The Mars Agency was named a top solution provider for Consumer Experience Management in CGT's 2018 Readers' Choice Survey. Results from the 2019 survey will be unveiled next month.