11/20/2017
VR/AR Book Series Hits Walmart for the Holidays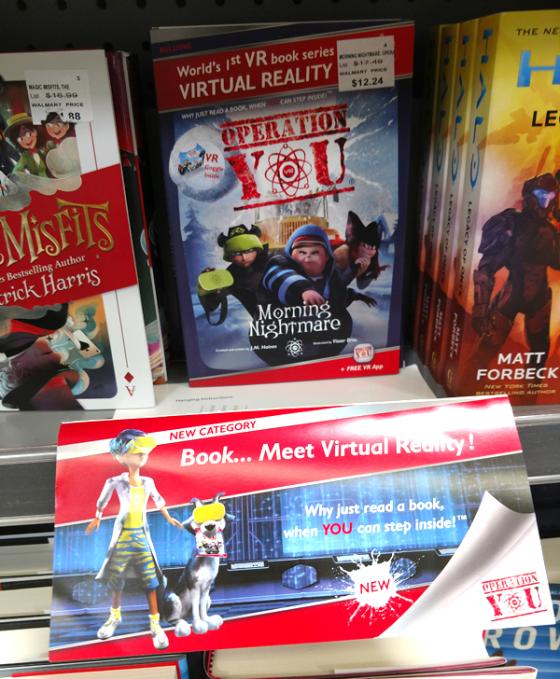 Emerging publisher Quantum Storey Co. has introduced what it describes as the "world's first virtual reality book series" through an exclusive distribution deal with Walmart.
Morning Nightmare, the first title in a new "Operation You" book series, began rolling out to all Walmart supercenters and 200 Sam's Club locations in mid-November in time for the prime holiday sales season. Online, the product will be available through walmart.com, samsclub.com and jet.com.
Walmart has an exclusive six-month sales window, after which books in the series will become more widely available, according to David Haines, Quantum Storey's president and chief operating officer. Quantum plans to release 30 titles in the series over the next 24 months, Haines said.
"We created a completely new and exciting way to experience traditional books by enabling readers the unprecedented ability to connect emotionally to the text and illustrations," says J. M. Haines, Quantum Storey's chief executive officer as well as author of the books. "Debuting with Walmart … provides an incredible opportunity to introduce this next level of storytelling and consumer technology to children."
The flexi-bound books are packaged with a pair of branded virtual reality goggles made of corrugate, along with access to a companion augmented reality/virtual reality smartphone app compatible with the Google Cardboard platform. Walmart is selling the product at an exclusive $12.24 price tag; Quantum's MSRP is $17.49.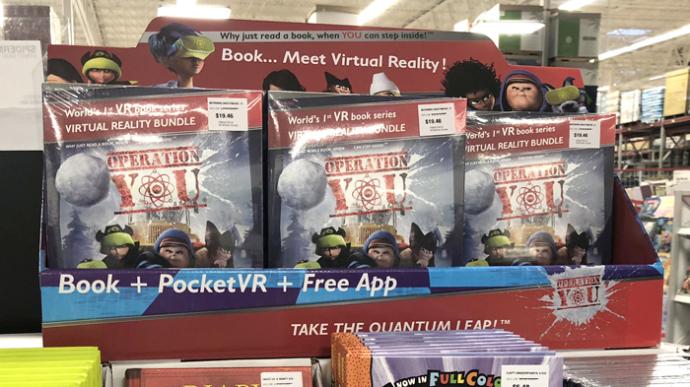 Walmart is merchandising Morning Nightmare on its "Best Sellers" display, accompanied by shelf talkers touting its uniqueness ("Why just read a book when you can step inside?"). Custom retail-ready PDQ trays help promote the SKU at Sam's Club, where the book is packaged with plastic VR goggles and selling at $19.46. Quantum Storey designed the packaging and P-O-P materials in-house.
Written for middle-level readers (around 7-11 years old), the Operation You books "combine the tradition of illustrated printed books with the dynamic, self-directed action of virtual reality," according to a release announcing the launch. Morning Nightmare chronicles the pressures of riding the school bus, and subsequent titles will similarly help children navigate the world. "They're like modern-day Aesop's Fables," says J.M. Haines.  
The products have been under development for 2.5 years and boast patent-pending technology, according to David Haines, a longtime fixture in the world of entertainment technology. The corrugate goggles delivered "a good first VR experience" via visuals designed to accurately replicate the book's illustrations.
The app provides augmented reality components that serve as "a bridge from the physical to the virtual world," he explains. It also provides a unique marketing vehicle, allowing consumers to try out the technology before buying the book itself. 
Founded in 2013, Quantum Storey is headquartered in Hollywood, California, and has offices in Amsterdam, Mumbai, and Seoul. The company has 15 employees.