02/05/2019
Urban Skin Rx Expands Reach to CVS, Ulta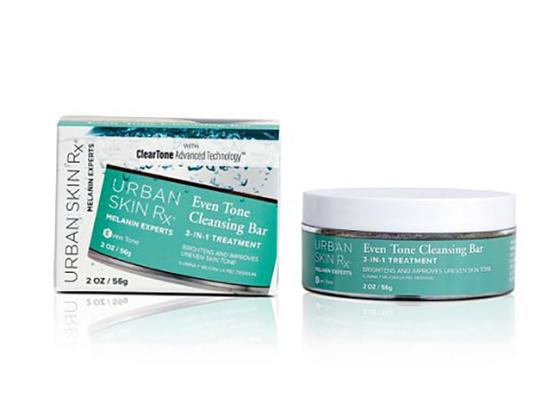 Multi-cultural clinical skin care brand Urban Skin Rx is expanding its distribution through new deals with Ulta Beauty and CVS/pharmacy and an expanded agreement with existing partner Target.
Launched in 2010 by licensed aesthetician Rachel Roff to develop products that cater to multicultural and melanin-rich skin types and tones, Urban Skin Rx products are designed to address common issues like scarring, uneven skin tones, melisma, acne and hyperpigmentation.
Until now, the brand was only available on its own e-commerce website (urbanskinrx.com) and at select Target stores and target.com, where it launched about one year ago. Urban Skin Rx debuted at 1,750 CVS stores last month and will hit 460 Ulta Beauty stores and ulta.com on Feb. 15, according to Women's Wear Daily.
"This expansion underscores the importance of reaching and serving a broader segment of underserviced consumers and will increase visibility and accessibility for Urban Skin Rx," said Roff, who also founded Urban Skin Solutions Medspa, one of the country's first medical spas and laser centers for ethnic and darker skin tones. "Partnering with these two powerhouse retailers will continue to elevate the skincare experience for our customers."
"Roff's products are iterations of those offered in her professional strength line sold through urbanskinrx.com, though they are offered in smaller sizes and with lower concentrations of active ingredients so as to be priced more affordably for mass retail," according to WWD, which also noted that the professional strength SKUs are also beginning to roll out to Costco stores.
In conjunction with the new partner launches and an assortment expansion at Target, Urban Skin Rx launched new products including "Even Tone Super Glow Serum" and "Clear & Even Clarifying Glycolic Pads."
The activity is the latest evidence of retail and packaged goods companies' widening recognition of multicultural consumers and their unique personal care needs. It also leverages an increasing focus on inclusivity and diversity in the beauty category.
Music artist turned business mogul Rihanna all but broke the internet roughly two years ago after unveiling a Fenty beauty line. Today, mass makeup brands like Revlon and Maybelline and emerging indie brands alike have broadened their shade ranges.
But hair care matters, too. Just ask Procter & Gamble, which in December acquired Walker & Co., an indie company focused on creating health and beauty products for people of color. Just a month later, Walker & Co.'s men's shaving brand Bevel launched into the skin care category with a four-product collection spanning face wash, toner, a spot corrector and gel moisturizer.