A Trade ROI Mindset

Most consumer goods (CG) executives believe that their organizations are working toward increasing trade spend ROI. Trade investments are no doubt visible — CG firms routinely spend 10 percent to 20 percent of revenues on trade, making it the second largest expense behind cost of goods sold (COGS). With volatile commodity prices impacting COGS and the inability to raise prices, CG firms are being forced to consider reducing trade spend while simultaneously ensuring that remaining spend delivers maximum impact.
But despite their best efforts, the majority of CG companies struggle to drive meaningful ROI improvements. Some fail because they analyze trade spend in a sporadic or inconsistent manner, resulting in questionable conclusions. Others only analyze a subset of promotions or accounts. In other cases, analysis is performed by analysts who are removed from daily operations, yielding unrealistic recommendations. Some mistakenly assume that implementing a sophisticated tool will be the answer but fail at change management, resulting in limited adoption.
However, a small pack of companies has overcome the challenges and is now well on the journey to improving trade ROI. These companies pushed ahead because they realized that driving increased value from trade involves creating an organizational ROI mindset built on four critical capabilities.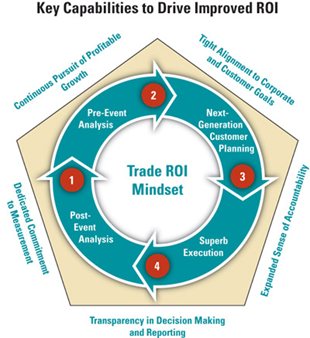 The journey starts with Post-Event Analysis (PEA), a concept that is not new but is still very challenging to get right. Successful PEA requires building and embedding a capability within the organization that addresses key design principles such as understanding limitations of source data, striking the appropriate balance between automation and human intervention, using the right tools and realizing that event-level ROI is the beginning of the journey — not the end goal.
Accurate PEA feeds Pre-Event Analysis, which is commonly called Trade Promotion Optimization (TPO). Companies leverage TPO for predictive forecasting, determining tradeoffs between options, and calculating retailer and manufacturer metrics. Despite the exciting possibilities, TPO needs to be handled with care. Successful TPO requires strong models, accurate inputs that reflect projected execution, an intuitive tool with robust functionality, and the right process and change management to effectively embed the capability within the organization.
Both PEA and TPO provide inputs into customer planning, which today is increasingly complex along many dimensions, including customer and portfolio complexity, competing objectives both internally and externally, varying skill levels and disparate tools that require manual integration. Next-Generation Customer Planning seeks to improve and simplify the process without compromising strategic differentiation, enable continual ROI and profitability improvement, and support the process with a sustainable suite of integrated tools.
The last critical element is Superb Execution. While this is certainly driven by visionary leadership and day-to-day coordination, mobile technology is playing an increasing role in ensuring organizations continually monitor and improve the quality of the execution of promotions, especially at store level.  
Organizations that have successfully developed these capabilities are on the path to creating a strategic advantage, resulting in more efficient trade spend, increased top line growth and, ultimately, market share gain.