Tito's Vodka, Allrecipes.com Host a Chatbot
Get great content like this right in your inbox.
Subscribe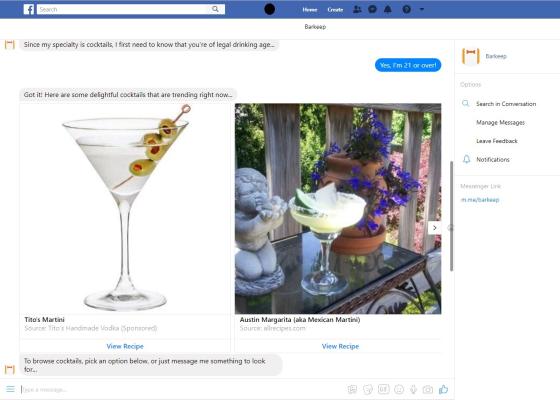 Tito's Handmade Vodka has partnered with Meredith Corp.'s Allrecipes.com consumer website to launch an artificial intelligence-powered virtual bartender that provides users with related drink recommendations and recipes.
Called "Barkeep," the chatbot converses with users about cocktails and mixology in real time through Facebook Messenger. It offers trendy, seasonally relevant cocktail recommendations and recipes that are tailored to personal preferences.
Powered by the Meredith "Shopper Marketing API," the chatbot guides users through topics that range from how to mix a Moscow mule to what cocktails can be mixed with the ingredients consumers have on hand. Users can also click to purchase Tito's directly for on-demand delivery through the category-specific Drizly service.
Recent studies find that online alcohol sales surpassed $1.7 billion in 2017 and could reach $7 billion to $15 billion annually over the next several years.
"We're committed to using technology to make it easier and faster for cocktail enthusiasts to find recipe inspiration and execute their ideas," said Corbin de Rubertis, vice president of innovation for Meredith. "We're equally committed to helping forward-thinking brand partners like Tito's engage shoppers where they are and capture the growing consumer interest in e-commerce purchase and delivery of spirits."
Among other "gets," Tito's will be the featured vodka in the user flow when vodka cocktail recipes are being discussed within the chatbot. The brand will also be the featured vodka in relevant cocktail recipes on Allrecipes.com.
In addition, Tito's will appear within Allrecipes Mixer Cards, rich media ads that let consumers customize recipes to fit ingredients they have on hand. In all cases, shoppers can click to add Tito's products to their cart for on-demand delivery.
"We are always looking for new ways to connect with fans," said Nicole Portwood, vp of brand marketing. "The virtual bartender allows us to help fans make hand-crafted cocktails in real time and gives us the ability to deliver on demand, bringing the bar one step closer."
While the Tito's/Allrecipes partnership may be unique, Barkeep is not the only virtual bartender out there. In March, Diageo launched "Happy Hour," a home bartending assistant that runs on Amazon Alexa-enabled devices.