Diageo Launches Alexa-Fueled Home Bar Assistant
Get great content like this right in your inbox.
Subscribe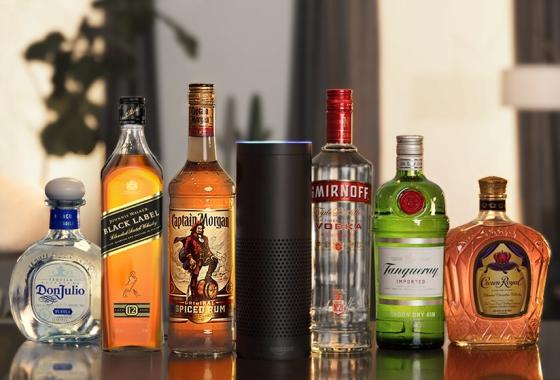 Alcohol marketer Diageo is giving consumers another way to mix it up with the "Happy Hour" skill, a home bartending assistant that runs on Amazon Alexa-enabled digital devices.
Designed for at-home use by adults, the natural language processing-based skill offers drink tips and celebratory perks via three key elements: "Mix-It-Up," which lets the skill learn which beverages party guests are in the mood for and suggests recipes; "Cheers," which speaks in a witty tone and offers up myriad reasons to celebrate (including date-specific occasions; and "Find a Bar," a feature enabled by integration with Yelp that recommends a nearby bar for enjoying Diageo cocktails. Suggestions are sent directly to the user's Alexa app via the person's handheld device.
"Making drinks for friends should be fun and stress-free," said Devin Nagy, director of technology and emerging platforms for Diageo North America. "We're thrilled to introduce a skill that encourages responsible creation and enjoyment of cocktails in the home." The experiential skill easily allows for ongoing updates, which will come over the next few months, he added.
NLP recognizes natural language and text. By embracing NLP, Diageo taps into a technology segment that is expected to roughly double in size to $16 billion by 2021 at a compound annual growth rate of 16.1%, according to Marketsandmarkets.com ("Natural Language Processing Market Global Forecast," July 2017).
Alexa has been one of the driving forces behind NLP's growth. During a fourth-quarter conference call, Amazon chief executive officer Jeff Bezos said the company would "double down" on its Alexa-powered group of devices after 2017 results "far exceeded" expectations.
Happy Hour should have strong appeal among Millennials. The Walker Sands "Future of Retail Study" (also July 2017) found that 37% of people aged 26 to 35 reported shopping via voice always or often, while 43% had made a voice-assisted purchase over the last year. Among all age groups combined, 19% had bought something via voice assistant over the last year, and another 33% planned to make a voice-directed purchase in the coming year.
Diageo ranked 33rd on CGT's list of the "Top 100 Consumer Goods Companies" for 2017 with $16.5 million in revenue.