06/01/2019
Profile: Nicole Austin, Saputo Cheese USA Inc.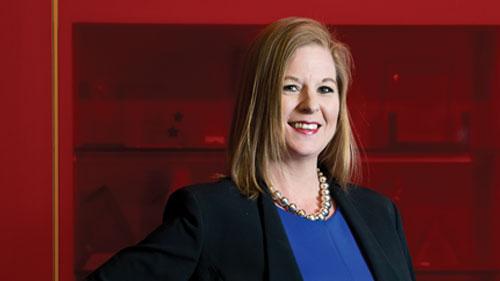 Nicole Austin has been with Saputo Cheese USA Inc. for 25 years. She started in marketing in 1995, holding the roles of sales and marketing coordinator and then manager, marketing events, before becoming manager, social and digital media. 
What are your job duties?
AUSTIN: I am responsible for all our social and digital media across our retail dairy cheese brands - Frigo Cheese Heads, Treasure Cave, Frigo and Dragone. For each brand, we have Facebook, Instagram, Pinterest and YouTube channels that I manage. On the digital side, I execute our national digital coupon plans as well as all digital media for our brand promotions including banner ads and email campaigns. Finally, I'm responsible for our "always on" Google search/Adword campaigns we run throughout the year.
How does your company promote digital innovation?
AUSTIN: We've continued to educate our sales team and upper management on the importance of digital media through sponsored lunch and learns and various presentations throughout the year. The added education specifically for the sales team has in turn supported our customer-specific shopper marketing efforts. Retailers understand the importance of digital media as well and value all tactics that are targeted to their shoppers, including social content that we provide in the form of recipes and photography. 
What's the future of digital marketing?
AUSTIN: I think digital marketing will again grow within the next few years. Mobile is already a big part of the way consumers engage with media, but I believe targeting will become much more sophisticated. Shopper behavior continues to be tracked but details on shopper behavior will get much more granular, allowing manufacturers the ability to easily serve the right content to the right audience at the right time. Social will also continue to play a key role in marketing efforts. The more consumers look to social channels such as Instagram and Pinterest for recipe inspiration and recommendations, the more important it will be for brands to be present in those consumers' feeds providing relevant content.
How can brands – in general – take better advantage of the opportunities in digital?
AUSTIN: If brands are not using digital as part of their marketing efforts they are missing out, especially with how we know our shoppers are using digital media throughout their shopping experience. I think it first starts with great partners. Every supplier will come with the next best way to execute your digital marketing plan but it's about being selective and taking it slow. Just because digital moves fast doesn't mean you need to make fast decisions. Figure out the best channels and media that work for your brand.
How do you keep an ear to the ground in such an ever-changing digital landscape?
AUSTIN: Partnering with the Path to Purchase Institute and working closely has been very helpful for us. We try to make it to the seminars, the Path to Purchase Expo and the Path to Purchase Summit as much as we can to learn from the Institute and our other colleagues who are trying to do the same thing as us – keep up with digital media.  We also partner with brands when we can for the same reason. My products are sold in dairy, so why not partner with someone whose products are somewhere else in the store? Given the amount of cross-category shopping going on, the more opportunities brands have to partner together for special deals or meal solutions, the better.
RECENT ACHIEVEMENT
AUSTIN: In 2018, we partnered with Disney Pixar's "Incredibles 2" movie for a summer and back-to-school consumer promotion for our Frigo Cheese Heads brand. An online instant-win game and other digital tactics were supported by dedicated packaging and in-store marketing. Print media in targeted consumer publications drove awareness and a national FSI during back-to-school season drove additional traffic to the store. We also executed multiple customer-specific elements to tie in with our national program. From a category and competitive perspective, Frigo Cheese Heads achieved a significant sales lift as a result. On paid social, this campaign delivered a brand average CPM far lower than prior Facebook and Instagram promotions. Engagement on the instant win microsite outperformed the brand's last promotion by 165% with more than 1 million consumers engaging in the promotion. The promotion exceeded awareness KPIs important for growth. The brand achieved exposure to new audiences, serving messaging and visual cues that reinforced the brand's evolved all-family positioning on a mass level without the cost of traditional media. Delivering more than 419 million impressions over eight weeks meant the brand reached its target via multiple touchpoints and screens throughout the day on a scale that the brand had never experienced before.