P&G Uses AI to Connect with Consumers
Get great content like this right in your inbox.
Subscribe
Procter & Gamble's Olay brand celebrated its participation in the "Mobile World Congress" this week with the global launch of the Olay Skin Advisor, a mobile platform designed to help women better understand their skin and find products best-suited for their personal needs.
A beta version of the platform has been live in the U.S. since late 2016. The U.S. version will get an upgrade in mid-March.
Rooted in a suite of artificial intelligence technologies, the Olay Skin Advisor marks the first application of deep learning in the beauty industry, according to P&G, and seeks to arm women with the knowledge they need to better navigate the often-confusing beauty aisle.
"Shopping for skincare has never been more overwhelming, as women are faced with thousands of products and promises," said Dr. Frauke Neuser, principal scientist for Olay. "Olay's research shows that browsing the shelf is the No. 1 purchase influencer for women, yet one-third of women do not find what they are looking for. We saw an opportunity to help women understand their skin better than ever, before they even step foot in the store."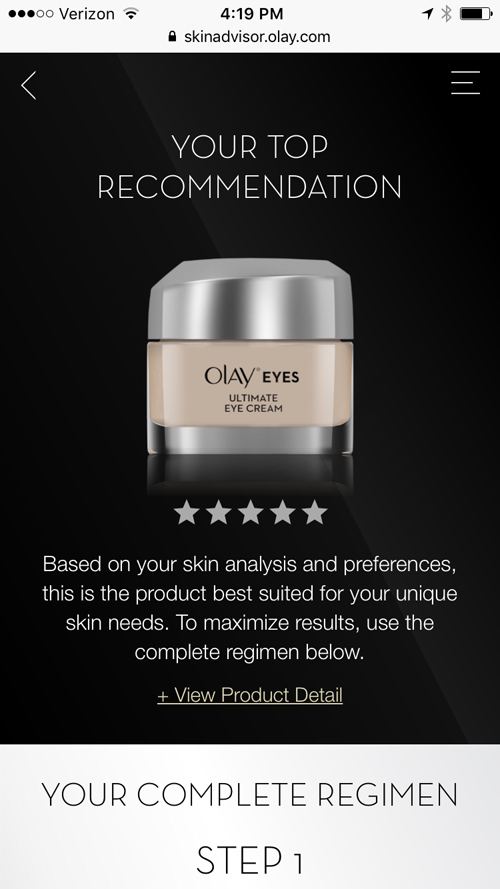 A web-based analytics platform, the Olay Skin Advisor uses artificial intelligence to conduct a skin analysis and personalized product recommendation via mobile phone or tablet. It analyzes a user's selfie to determine a current "skin age" and the areas of the face driving the calculation.
After asking a short series of questions about the user's skin concerns and product preferences, the platform then recommends a personalized product regimen based on extensive knowledge about what products have worked for women with similar concerns, needs and preferences. 
P&G ranks 2nd on CGT's list of Top 100 Consumer Goods Companies for 2016.
Hosted by the GSM (Global System for Mobile Communications) Association, the Mobile World Congress was held this week in Barcelona, Spain.