11/14/2018
P&G Moves Toward a Targeted, Automated, Responsive Future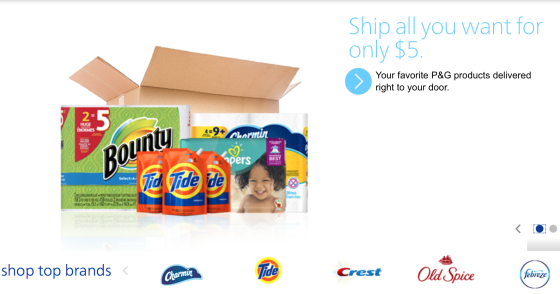 Procter & Gamble outlined a plan to use data, analytics and technology to more sharply target marketing activity, automate additional manufacturing functions and reduce supply chain costs during a financial presentation held last week.The company also announced several organizational changes.
Through data and analytics, P&G has moved from "mass blasting" ad campaigns to marketing that reaches consumers with one-on-one precision, the company said. This has eliminated wasteful spending and improved effectiveness. 
Meanwhile, manufacturing centers are using guided vehicles, collaborative robots and other technologies that eliminate manual assembly. 
Worldwide organizational changes that go into effect on July 1 are intended to simplify P&G's management structure and amplify its focus, agility and accountability. The changes will also more clearly define responsibilities and enable P&G to accelerate growth and value creation.
P&G's goal with these initiatives is to sharpen its competitive edge in a digitally-driven market that has experienced major changes in consumer purchasing behaviors. 
"We are accelerating the pace of change and stepping up execution," said chief executive officer David Taylor. "We're leading constructive disruption across the value chain, creating a more focused, agile and productive company designed to win with consumers at the speed of the market. We remain focused on driving productivity improvement and cost savings to fuel investments and margin and transforming P&G's organization and culture."
On the marketing side, P&G is using its own data management platforms to collect more than one billion consumer identifications worldwide. It has also accelerated adoption of performance analytics, hiring its own data scientists to utilize artificial intelligence tools like chatbots, according to chief brand officer Marc Pritchard.
That has the company to make media — particularly digital media — more pinpointed, decreasing "waste" by 20% while increasing reach by 10%. "We're reinventing brand building, going from wasteful mass marketing to one-on-one brand building fueled by data and technology," said Pritchard. "Our goal is to enable market share and sales growth while saving $2 billion to either take to the bottom line or reinvest."
P&G's data management platform contains anonymous audience data on 90% of the population. In an analytics learning lab, the company combines the audience data with purchase data to generate granular views of consumer habits.
"It lets us move from generic demographic profiling like 'women ages 18 to 49' to more precise smart audiences like first-time moms, Millennial young professionals or first-time washing machine owners," explained Pritchard. "We can reach the right people at the right place and time. It's helping us top one of the biggest problems in mass marketing: annoying consumers with too many ads."
By running fewer ads, P&G is focusing more on one-on-one digital engagement. Its online Olay Skin Advisor, for example, is an AI-enabled consumer diagnostic tool. After users take a selfie, the tool accesses a database that analyzes their skin condition. Via email, consumers then immediately receive expert advice regarding the right product regiment from one of P&G's tech startup partners. The algorithm grows smarter with each selfie session. 
Launched in August 2016, the Skin Advisor has been used by 3.5 million people so far. "It's not an ad," said Pritchard. "It's a useful, engaging experience. Olay has been growing by double digits."
This past summer, P&G also mounted an Olay social media campaign under the hashtag #faceanything that earned five billion impressions. "The shift to more 'pull' content has elevated PR to a more significant strategic role in how we reach consumers with fewer paid mediums," said Pritchard. "Like a startup, we're directly buying more search and social media."
Automating the Supply Chain
When it comes to manufacturing and the supply chain, P&G is automating many processes. At a state-of-the art manufacturing facility in West Virginia, for example, autonomous vehicles and collaborative robots have been introduced. 
Suppliers are now digitally connected to warehouse and manufacturing facilities, enabling seamless transitions. P&G is also piloting online sensors and measuring devices to eliminate manual assembly, said Yannis Skoufalos, global production and supply chain officer. "We're transforming how we work with advanced capabilities and analytics. The supply network is quickly becoming touchless."
With external partners, P&G is exchanging data on materials ordering, receipt, consumption and returns in real time. "We're operating the supply chain as one, enabling an end-to-end synchronized network," added Skoufalos.
P&G is also constructing scaled, digitally enabled sites that provide the ability to geographic address any type of omnichannel fulfillment. In its largest markets, new sites will be able to supply 80% of its products to retailers and consumers within 24 hours.
Organizational Changes
To simplify its management structure, P&G is creating six industry-based "Sector Business Units" for its largest geographic markets. The units will be led by CEOs who will report to Taylor. These SBUs will have direct sales, profit, cash and value creation responsibility. They will also be in charge of consumer understanding, product and package innovation, brand communications, selling and retail execution and supply chain. Leading markets include the U.S., Canada, China, Japan, U.K., Germany, France, Spain, Italy and Russia. These markets account for about 80% of total sales.
P&G will also continue to reduce corporate resources, with about 60% of corporate work shifting to the business units and markets. But the company will retain the core resources needed to sustain ongoing viability, including the corporate R&D group that invents upstream platform technologies to benefit multiple businesses and creates opportunities for P&G to enter new businesses. 
"This is the most significant organization change we've made in the last 20 years," said Taylor. "We will have a more engaged, agile and accountable organization focused on winning with consumers through superiority, fueled by productivity, and operating at the speed of the market."