Mondelez Launches SmartLabel App
Mondelez International this week launched one of the first sponsored SmartLabel apps to give shoppers on-the-spot, in-store access to detailed product information.
The free app lets shoppers immediately find additional information on roughly 1,100 products in Mondelez's U.S. snack product portfolio (as well as on the smartlabel.org website). Users who scan a special QR code or the product's UPC on packaging are sent directly to a database of detailed information about ingredients, nutrition facts and allergens. Scanbuy Inc. created the app.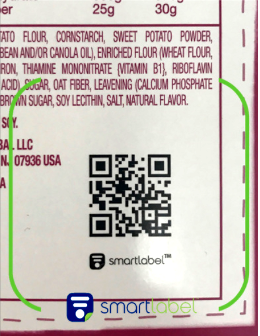 Launched in December 2015, the SmartLabel initiative brought together various industry constituents to help consumer packaged goods companies meet the growing consumer demand for product transparency. Mondelez was one of the first CPGs to join the effort.
"With SmartLabel, Mondelez International is demonstrating our commitment to consumers' focus on well being," said Naomi Rosenfeld, the company's marketing director, well-being strategy, North America. "SmartLabel gives us an opportunity to meet consumers' desire for clear access to information about the products we sell."
Unilever also has a SmartLabel app that also was produced by Scanbuy Inc., which was part of the original Business to Consumer Alliance — started by GS1 and driven forward by the Grocery Manufacturers Association and the Food Marketing Institute — that ultimately led to the initiative.
Product information management company ItemMaster has a universal app that provides information on roughly 80,000 products.