L'Oreal Launches AI-Enabled Skin Diagnostic Tool
Get great content like this right in your inbox.
Subscribe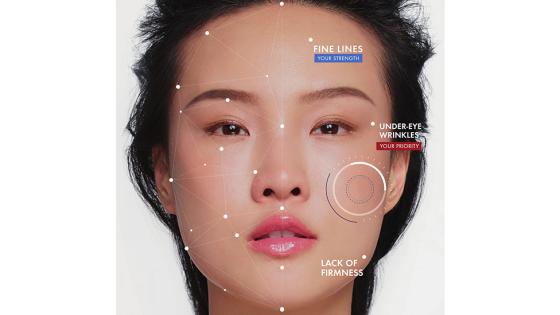 L'Oreal USA has launched a digital skin diagnostic tool meant to tackle the woes associated with aging skin using augmented reality and artificial intelligence.
The tool is born from an AI-powered algorithm developed by the company's in-house ModiFace beauty tech firm and the L'Oreal Research & Innovation division, which "nourished" the technology by tapping into 15 years of scientific research on skin aging and its photo database, according to a press release announcing the launch.
The algorithm was trained on 6,000 clinical images from evaluation and research studies conducted in France, China, Japan, India and the U.S. on 4,000 people between the ages of 20 and 80 with "skin aging atlases." According to the release, these were the first exhaustive atlases of facial aging that address visual aging signs. (Skin atlases are used by clinicians or dermatologists today to help evaluate or predict the general aging of a face.)
A newer model was then created and trained on more than 4,500 smartphone selfies of women (either Asian, Caucasian or African American) under four different lighting conditions. Upon dermatologist testing, the results achieved a "high level of skin assessment precision," even with varying facial expressions and photo-taking conditions.
The acquisition of ModiFace in March 2018 served as phase one in L'Oreal's digital transformation, which chief digital officer Lubomira Rochet said is "focused on reinventing the beauty experience through technologies such as voice, AR and AI," in the release.
The manufacturer plans to divvy phase two up in multiple applications, the first of which is known as Vichy SkinConsultAI, which has launched in Canada in January and will roll out to the CPG's websites globally later this year. The SkinConsultAI provides a tailored diagnostic experience in a three-step process:
Women take and upload a bare-faced selfie on the brand's website.

The tech analyzes aging signs and allows women to discover their personalized skin aging matrix, skin strengths and priorities.

Each user receives a tailor made product routine to address her specific needs.
"We believe that services will be the new gateways for discovering our brands and products," Rochet said. "After virtual makeup try-on, virtual hair color try-on [and] online beauty consultations powered by AR, L'Oreal and ModiFace are proud to unveil the first skin care diagnostic authentically powered by AI and science."
Prior to last year's acquisition, ModiFace was already making a name for itself in the beauty space. The 12-year-old company has been providing services and developing technology for L'Oreal brands for more than four years, but also was a prominent player in virtual cosmetics tryout apps (or chatbots) for some of the manufacturer's major rivals. 
In 2018, L'Oreal and ModiFace launched a mobile app dubbed Style My Hair that uses AI to let users experiment with different haircuts, colors and styles. Earlier this month, the duo debuted a "Virtual Shade Selector" tool for the Garnier brand offering hair color recommendations based on a one-minute quiz. The launch followed that of a similar tool for L'Oreal Professionnel.