07/31/2018
Kroger Launches Its Own Men's Grooming Line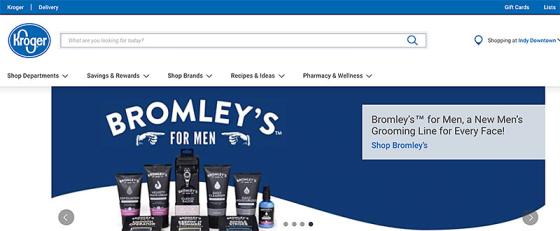 Kroger Co. has introduced Bromley's For Men, a private label men's grooming brand. Developed in partnership with "skincare experts," the "affordably priced" collection includes shaving and complimentary skincare products.
"Bromley's For Men offers a complete, customizable grooming experience because Kroger knows it shouldn't be complicated or expensive," said Robert Clark, senior vice president of merchandising. "This new … product expands our personal care business while simplifying men's shaving and grooming as we redefine the customer experience through Restock Kroger."
In 2017, Kroger's "Our Brands" portfolio achieved its highest-ever unit share and reached $20.9 billion in total sales, noted Clark. "Bromley's For Men is a collection that's simple, affordable, and accessible—it will disrupt the men's shaving and grooming category."
In a nationwide trial, 88% of participants said the Bromley's razor provided a smoother shave compared with their current razor; 80% said they would purchase the product, according to Kroger.
Launched in late 2017, the "Restock Kroger" initiative involves accelerated, more data-driven efforts around pricing, personalized communications with shoppers and a massive revamp of assortments.
Intensifying private label efforts in key areas appears to be an important part of the effort. According to a recent study from the Food Marketing Institute and IRI, private brand performance in grocery stores increased significantly over the past year, with U.S. sales reaching $138 billion.
There is growing demand for affordable products in the $11 billion men's shaving market, which historically has been dominated by Procter & Gamble's Gillette. But new direct-to-consumer brands led by Dollar Shave Club (now owned by Unilever) and Harry's, Inc. (now sold through Walmart and Target) have gained millions of customers by selling no-frills razors at discounts. Both brands now also have mass retail distribution.