06/01/2017
Headache Sufferers Directed to Walgreens
Tylenol leverages traffic/navigation app Waze as part of omnichannel approach for rapid release gels launch
More Information
Brand: Tylenol
Retailer: Walgreens
Key Insights: Transitional pain sufferers – those who get headaches or other pain episodes brought on by physical triggers like working out or emotional triggers like stress – want and need fast pain relief.
Activation: Mobile activity (including with the Waze traffic and navigation app) was complemented by in-store messaging. Motion-activated video units at shelf played a 15-second spot customized for the retailer.
New Brunswick, N.J. — The national return to market of Johnson & Johnson's Tylenol rapid release gels in January represented the brand's biggest product launch in years. Among its activity, the manufacturer worked with Walgreens and agency partners on a campaign that involved triple the investment of a typical line extension, says J&J's Sandy Carlson, customer and omnichannel strategy director for Walgreens.
The effort focused on positioning Walgreens as the destination for the reintroduced product, which first rolled out in 2005 but was recalled in 2009. The target audience was one of transitional pain sufferers – those who don't quite suffer from chronic pain, but who often get headaches or other pain episodes brought on by physical triggers like working out or emotional triggers like stress. Consumers were encouraged to find "fast working pain relief," a tagline developed by Chicago-based agency Upshot specifically for Walgreens.
To reach these consumers effectively, the launch included integration with Mountain View, California-based Waze and its crowdsourced traffic and navigation mobile application, as well as moment-based targeting from Aki Technologies, San Francisco, to drive harried potential consumers out of rush-hour traffic and into stores. The mobile and Waze activation included a map and directions to the nearest Walgreens store for quick pain relief.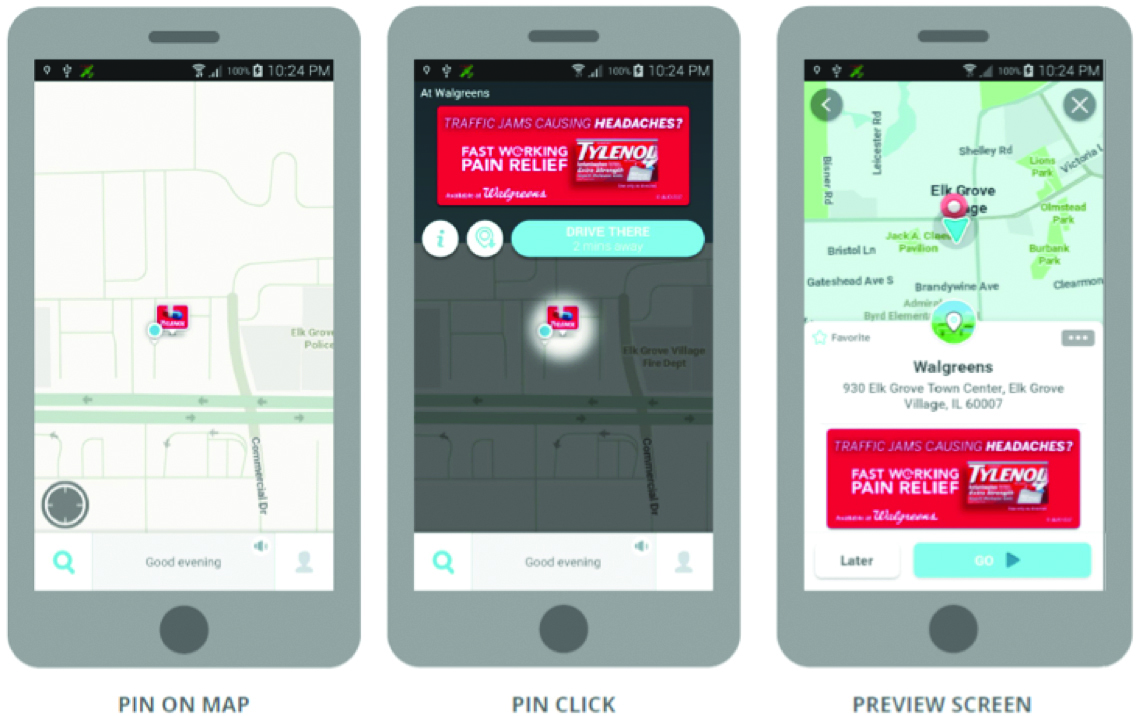 "Everything about this program was fast," Carlson says. "In the first month, we reached over 25 million shoppers on their mobile device across five key markets, resulting in both category and Tylenol share growth at Walgreens. This success could not have happened without our partnership with Walgreens and creative support from our agency Upshot."
In stores, shoppers found Tylenol messaging at every turn, from displays in-aisle to endcaps to the pharmacy counter to checkout. In 3,200 Walgreens stores, motion-activated video units installed for the campaign featured a 15-second video spot customized for the retailer. The video unit and off-shelf placement remained for six months.
The spot also ran for 12 weeks on YouTube, demonstrating how the laser-drilled gelcaps release medicine quickly for fast relief. The launch also was supported via Walgreens.com, email blasts, the retailer's Facebook page, a Google campaign, FSIs and paid search.
The campaign represented several firsts: the first time Tylenol and Walgreens collaborated on a program incorporating Waze and Aki, the first time Tylenol used highly interactive video at shelf, and the first time the brand created a uniquely ownable message for Walgreens that complemented broader Tylenol messaging for the new product.
The program's success was measured largely on brand share and category growth, and it exceeded expectations on these measures. "The media approach was strategically tailored to our shoppers and capitalized on the convenience and speed of Walgreens," says Laurie Blair, Walgreens marketing director. "To not only have success for brand awareness and growth, but also for the category, was a huge win for us."
The rapid release gels differ from other Tylenol products mainly in its delivery mechanism, so the partners were concerned about potential cannibalization with the launch. "We're not seeing cannibalization at nearly the rate that the brand team was anticipating," Carlson says. "So we felt that was a win, too."
Other partners on the campaign included J3 New York, which handled online video programmatic media planning and buying; Menasha, Neenah, Wisconsin, creator of the in-store video unit; and International Paper, Memphis, Tennessee, which produced the other in-store displays.
Image Gallery