Halo Top Leads IRI's 'New Product Pacesetters'
Get great content like this right in your inbox.
Subscribe
Nearly half (49%) of the 200 top-selling packaged goods launches last year came from small suppliers with annual revenues of less than $1 billion, according to IRI's "New Product Pacesetters" report for 2017. These products represented 26% of total Pacesetter dollars for the year.
The top-selling Pacesetter of the year was Halo Top Creamery, which pulled in $342 million in sales in its first year to become the top ice cream brand in the U.S. last summer. CGT named Halo Top as a "Standout SMB" in April.
According to the annual report, 40% of last year's food and beverage and 25% of non-food Pacesetters were brands that were new to the marketplace. Twenty percent of 2017's top launches earned less than $10 million during the first year in stores.
This marks a dramatic change from just five years ago, when nine out of every 10 top Pacesetter launches were extensions of existing brands. Small brands, however, were not among the top 10 in any category. (Products become eligible for "Pacesetter" consideration when they achieve 30% "all-commodities volume" distribution across mass, food and drug channels, regardless of their initial launch date.)
"Consumers are demanding products that are customized to their needs," said Susan Viamari, IRI's vice president of thought leadership. "This type of targeted innovation continues to put small, niche companies on the New Product Pacesetter map. Millennials, in particular, are more moved by experiences and solutions to their needs and are less likely to purchase based solely on brand name."
Larry Levin, IRI's executive vice president of consumer and shopper marketing, said the popularity of smaller brand introductions first emerged as a trend in last year's analysis. "Smaller, more targeted launches have become the new norm in CPG aisles, as manufacturers look to enhance impact with launches that align more closely with key consumer needs and wants."
Among the top 100 brands, median year-one sales were $14.5 million. The exception was Halo Top. Halo Top was also the number one food/beverage brand overall. When it came to the top 10 brands by category and segment, however, traditional large CPG names otherwise continued to dominate. 
Halo Top attests to consumers' interest in healthier products. Also among the top 10 Pacesetter food/beverage brands were Campbell's Well Yes!, a soup featuring simple, nutritious ingredients, and SmartMade by Smart Ones, nutritious frozen meals inspired by quality ingredients and smart cooking techniques used in the home. In the snacking category, Nabisco's Good Thins crackers offer alternatives to white flour. The various cracker varieties are made from potato, rice, chickpeas, corn and oat. Some are gluten free.
Premium products also earned a place among Pacesetter brands. The top 10 food/beverage names included PepsiCo's Lifewtr, a purified, pH-balanced water with added electrolytes. Bottles labels feature the work of new artists and are constantly updated.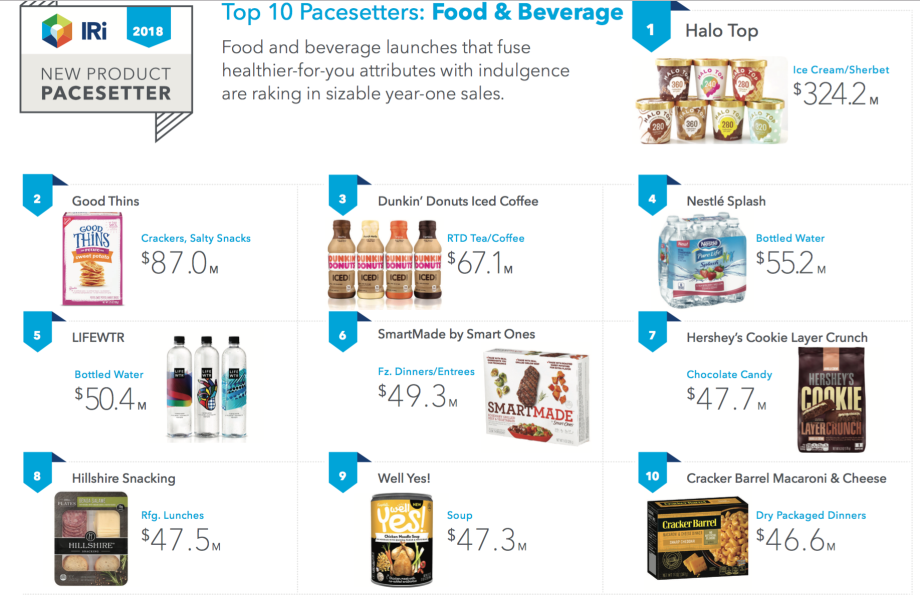 Among non-food Pacesetters, median year-one sales were $17.8 million. The top 10 included several co-branded solutions, such as Tide Simply Plus Oxi, which fights stains and odors. Three of the top 10 non-food brands also attest to the growing sophistication of "As Seen on TV" products: Red Copper and Copper Chef cookware, and Simply Straight, a hair straightening brush.
In the convenience store sector (covered separately from other channels), beverages triumphed. This is not surprising, given that c-stores are ideal for the category, are a major venue for new product introductions and tend to attract younger, more adventurous consumers. The top 10 included Four Loco Gold, which attests to the growing popularity of "malternative" alcoholic beverages. Sold alongside beer, such malt beverages have a high alcohol content (14% alcohol by volume) and come in sweet flavors.
The top 10 also included seven soft drinks: Red Bull Green Edition, Lifewtr, Monster Mutant Super Soda, Mountain Dew Pitch Black, Mountain Dew Black Label, Sprite Tropical Mix and Pepsi Cherry Vanilla.