Gucci Slips into an AR-Enabled Try-On Tool
Get great content like this right in your inbox.
Subscribe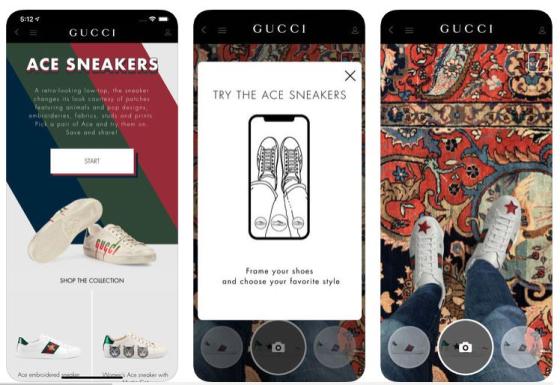 Kering's Gucci has freshened up its mobile application with an augmented reality tool that lets shoppers virtually try on Ace-brand sneakers.
App users select the Ace shoe they'd like to try on, then point a smartphone camera at their feet to see how they would look, as first reported by Venture Beat. The technology tracks foot movement, so users can look at the augmented shoes in real time as they move. They also can take screenshots for social sharing, as well as make direct purchases from Gucci's e-commerce platform.
To help develop and implement the capability, Gucci tapped Belarus-based AR commerce startup Wannaby, which launched a beta of its latest app (called Wanna Kicks) earlier this year. (View the video below.) The similar Wanna Kicks app lets shoppers try on, fit and personalize shoes from brands including Adidas and Allbirds.
Leveraging in-app and real-time machine learning algorithms that render the position of the shoes as well as the color, texture, and lighting. Additionally, Wannaby also uses a printing studio to create 3D sneaker models, according to Venture Beat.
Wannaby is also trying its hand at allowing virtual testing of nail polish through "Wanna Nails," jewelry with "Wanna Jewelry," and apparel.
"When launching Wanna Kicks, we knew shoe AR try-on has great potential in retail, e-commerce and among sneaker fans," chief executive officer Sergey Arkhangelskiy told Venture Beat. "Just a few months after the technology was released, it found its way straight into the Gucci app."