Eight O'Clock Coffee Debuts Augmented Reality Game
Get great content like this right in your inbox.
Subscribe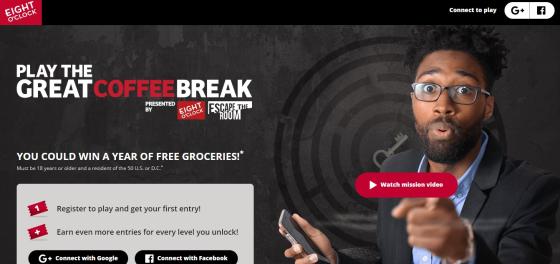 Eight O'Clock Coffee this month launched "The Great Coffee Break," a digital experience that uses augmented reality to tap into the popularity of physical escape games while giving consumers a chance to win free groceries.
Set in a fictitious animated roastery, the game invites players to solve coffee-themed puzzles to help bags of Eight O'Clock "escape." Players can explore different virtual rooms within the roastery to find clues, solve puzzles and complete the mission.
Designed by entertainment company Escape the Room, the game can be launched by scanning Eight O'Clock Coffee packaging using the Shazam app or visiting GreatCoffeeBreak.com. Launched June 17, the promotion runs through Aug. 11. Eight people will win the grand-prize  free groceries for a year.
In choosing a physical escape game, Eight O'Clock Coffee is tapping into a trendy pastime. The total number of such games has risen from 22 to about 2,300 since 2014, according to the coffee manufacturer.
"We are tapping into one of the hottest emerging trends in a way that is meaningful to coffee drinkers," said Michael Scalera, Eight O'Clock Coffee's senior brand manager.
The Great Coffee Break was conceived and executed by The S3 Agency, Boonton, NJ. Marketing support includes in-store and digital advertising, social media and public relations outreach.
Eight O'Clock Coffee joins a growing list of consumer goods companies using AR to promote products and/or enhance the customer experience.
Paper products giant Georgia-Pacific introduced a new line of Dixie cups that use mobile technology and AR to make tooth brushing fun while teaching young children the importance of oral hygiene.
Elsewhere, Kia Motors is giving people the chance to virtually park a Stinger Sports Sedan in their driveway by using an AR experience for Facebook Messenger. And Sherwin-Williams has updated its ColorSnap Visualizer smart phone app with Instant Paint, an AR function that allows consumers to rapidly "test" paint colors by tapping their screen.
The market for AR products is projected to grow 80% to $165 billion by 2024, according to Global Market Insights.