DTC-Minded Nike Makes Nice with Amazon
Get great content like this right in your inbox.
Subscribe
Nike Inc. confirmed last week that it is working with Amazon to sell its products directly through the e-tailer. The news came as the sportswear company announced that digital sales surpassed $2 billion in fiscal 2017, ended May 31.
Nike's change of heart after refusing to work with Amazon for decades is equal parts offensive and defensive strategically.
As digital sales and direct-consumer engagement become more critical to success, it has become even more important for Nike to take control of its brand presence on the e-tailer's website, where hundreds (if not thousands) of "entrepreneurs" (CGT's quotes) have been reselling the manufacturer's products (obtained via outlet stores, overstock auctions or other means) through the Amazon Marketplace for years.
Through the new agreement, Amazon has agreed to police the Marketplace by clamping down on counterfeit sales and prohibiting unauthorized third-party vendors from selling Nike product without permission from the manufacturer — and in fact has already begun the process, according to Internet Retailer.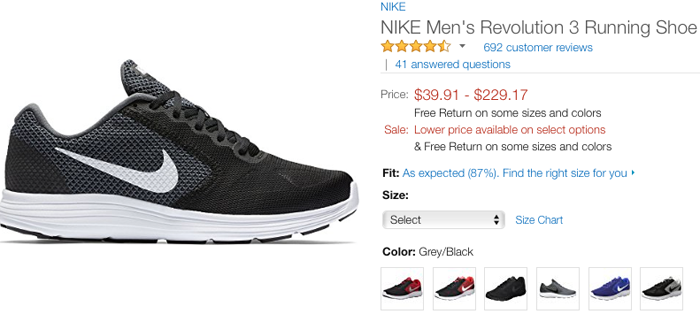 "In the U.S., we're executing a new pilot with Amazon with a limited Nike product assortment, chief executive officer Mark Parker stated during the company's year-end analyst call last week. "As we do with all of our partners, we're looking for ways to improve the Nike consumer experience on Amazon by elevating the way the brand is presented and increasing the quality of product storytelling. We're in the early stages, but we look forward to evaluating the results of the pilot."
But as Nike places a greater emphasis on direct-to-consumer sales channels, a stronger presence on the world's largest online retailer — which also happens to be the No. 1 consumer destination for product searches — would seem to be a necessity.
Direct-to-consumer sales, which for Nike includes 985 brick-and-mortar stores globally in addition to digital channels, increased 18% to $9.1 billion in fiscal 2017 for the Nike brand (which drives 94% of total company revenue). DTC currently accounts for roughly 35% of total sales, but it drove 70% of the company's growth last year.
Sales through nike.com and the company's consumer apps generated more than $2 billion in sales last year — thanks to growth of 30% — and have nearly doubled in the last two years. Nike has stated publicly that it wants to reach $7 billion in digital sales by 2020. According to Internet Retailer, Nike is currently the 37th largest online retailer.
"Through our 'Consumer Direct Offense,' we're putting even more firepower behind our greatest opportunities in fiscal 2018," Parker said during the call. "It will be a big year for Nike innovation and we'll bring those stories to life through deeper consumer connections in our key cities around the world."
"Fulfilling demand through Nike.com generates nearly twice the revenue and significantly higher margin on each transaction. And, over time, we see the growth of digital as accretive to Nike's bottom-line profitability," chief financial officer Andy Campion said during the call. "So, we will continue to prioritize and drive a more immediate shift towards more direct service of the consumer."