CGT June 2018: Companion Pieces
Get great content like this right in your inbox.
Subscribe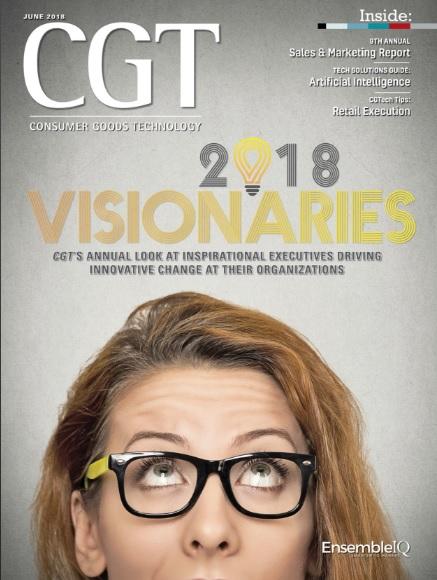 Until the final few weeks of production, work on the two primary pieces of content for this month's issue was conducted separately, with senior editor Nicole Gillo taking the lead on our annual "Visionaries" showcase and me doing the same for the 9th annual "Sales & Marketing Study."
Once we did start looking at the two features together, it was immediately clear that we had a matching pair: the trends discussed in the report were reflected in the accomplishments of our Visionaries, and vice versa. Efforts to develop best-in-class e-commerce and omnichannel capabilities, improve analytics expertise throughout the enterprise, align the planning and execution of all commercial spending, and find better ways to engage with consumers were among the more obvious consistencies.
That works out pretty nicely, we think. If you look at the report as an examination of the key challenges facing the consumer goods industry, then our Visionaries profiles can be seen as presenting some of the ways in which leading executives are addressing those issues.
Of course, one very possible (not to mention trendy) way of addressing some of these challenges is through the use of artificial intelligence tools, which many companies are employing to improve both internal planning and external engagement — as well as to better align those two activities.
To help readers get a handle on the numerous tools that are currently available, CGT this month presents its inaugural "Tech Solutions Guide" for AI/Machine Learning. The guide encompasses well-known solution providers who've added AI-driven enhancements to existing tools, along with new vendors presenting unique offerings. These vendors support a broad array of business functions, as you'll see.
The guide marks our first attempt to examine this space, so we welcome your feedback on the information we've provided. It certainly is not an exhaustive view of the vendor landscape (which might be next to impossible, actually). But we do hope it offers a little guidance to companies that need some direction. So let us know how we did — and please, tell us about other solution providers we should be covering.
One final note on this issue: We labeled this our "9th Annual" Sales & Marketing Study in recognition of the number of years we've worked with Simon Ellis and IDC Manufacturing Insights to examine the state of the industry (and a big thank you to Simon for once again helping us out). Technically, however, CGT has been publishing this report since 2005.
As an example of how much things have changed, our first report noted that, at the time, fewer than half of consumer goods companies were using any technology at all to support such critical business functions as TPM, demand planning and account management. It's hard to believe that, as recently as 13 years ago, technology was still viewed as an option rather than as an integral part of business activity.
It reminded me of the time about five years ago when a fresh-from-college new hire asked me how business reporters could have possibly done their jobs before the Internet came along. I actually had to stop and think about it before I answered him.
--Peter Breen, Editor-in-Chief
To read the rest of CGT's June 2018 issue, click on the article links below: