12/13/2012
2012 Top 100: The Consumer Goods Registry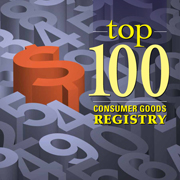 For the first time in a long time, this year's list of the top 100 public consumer goods companies tells more good news than bad. The majority of companies realized modest revenue growth in 2011 despite ongoing economic challenges; and some categories, like Food and Health & Beauty Aids, even posted sales gains across the board. The year also saw its fair share of industry shake-ups, like Sara Lee Corp.'s split and SABMiller's acquisition of Foster's Group Ltd.
On the pages that follow,
CGT
reveals which companies dominated the consumer goods market in nine categories as well as one retail category. We also revisit the top industry headlines of 2011/2012, which will undoubtedly impact the competitive landscape of the industry going forward.
Here is a breakdown of the rules and guidelines that we use to determine the players in each category:
Company Rank:
2011 annual revenue or the equivalent is used to determine each company's placement on the Top 100 list and on each vertical  list. All financial information was sourced from annual reports, Web sites and press releases. Revenue for each company is reported in U.S. dollars. If a company reported revenue in a currency other than U.S. dollars, such as euros or yen, and did not provide the U.S. dollar value in its annual report, then the figure was subject to live exchange rates at press time (September 14, 2012) unless otherwise noted. Annual sales growth gains and losses are also reported based on information available in the aforementioned sources. The top grower in each category is highlighted on each list.
Company Inclusion:
Since revenue for most private companies is not reported, the lists only include publicly-traded companies. Thus, well-known consumer goods companies, like Mars Inc. or SC Johnson, are absent from the rankings.  
Slicing and Dicing:
In the case of holding companies and companies that sell in more than one category (PepsiCo, Unilever, etc.), the company is placed in the vertical that accounts for the majority of its sales. For example, LVMH Moet Hennesy Louis Vuitton operates in the beverage, health & beauty aid and retail categories. However, since the majority of its sales came from its fashion and leather goods business, the company appears on the Apparel, Accessories & Footwear list. It is also worth noting that only sales from over-the-counter (OTC) and consumer divisions are considered when ranking companies on the Pharmaceutical list.  
Mergers, Demergers and Acquisitions:
Transactions that took place in 2011 and 2012 are not reflected in the ranking. For example, Sara Lee Corp. recently split into two companies: The Hillshire Brands Company and D.E MASTER BLENDERS 1753 N.V. However, it reported financial figures as a combined company in fiscal 2011. Thus, Sara Lee Corp. appears on this registry, and the two companies post split will debut in next year's issue. Mergers and acquisitions that occurred in 2010 or earlier were considered in the ranking.
Read on to find out how your company, your clients and/or your competitors performed by comparison.