09/24/2014
Yumi Ice Cream Company Empowers Sales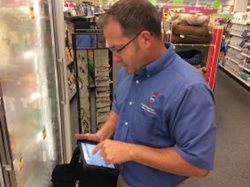 Yumi Ice Cream Company began delivering ice cream products to local retailers in 1986. Since then, the company has grown to reach over 15,000 stores across Texas, and has expanded its product lines to include prepackaged ice cream, frozen foods, baked goods and beverage products. Yumi distributes some of America's favorite brands including Nestl, Hagen Dazs, Dreyer's Unilever, Good Humor, Breyer's, Mar's, Snickers, Dove, Helados Mexico Ice Cream, DiGiorno Pizza, Hot Pocket's, Stouffer's Frozen Food, Tombstone Pizza, Hostess Brand Baked Snacks, Nesquik Beverages, Campbell's V8, Campbell's Fusion and Campbell's Splash Beverages.
The company's sales model employs Territory Sales Managers to meet with customers, check inventory, sell in new products and displays, and place orders. The direct store delivery team then brings the products to the store and stocks the shelves, to minimize out-of-stock situations.
Yumi has been using IntegraSys DSD Manager to manage its route sales and accounting operations since 2004, and began using the Apacheta RouteACE mobile DSD application to automate and streamline its delivery operations in 2011. Striving to maintain its technological leadership in the market, Yumi looked to provide its Territory Sales Managers with additional and more effective sales tools on a tablet devices allowing them to leave binders of printed price lists, planograms, and product information behind.
The Problem: Finding a More Effective Tool for Sales & Ordering
Yumi wanted to make the Territory Sales Managers (TSMs) more effective and save money by getting rid of printed materials and providing high quality sales tools in a convenient, reliable and easy-to-use form factor. The company's existing mobile devices had smaller screens and more buttons, not ideal for inputting information or sharing and viewing documents.
Yumi selected the iPad Mini because of its market position, convenient form factor, intuitive user interface, price point and multi-tasking capabilities. The company utilizes Box cloud storage capabilities to share product information, sales sheets, and price lists, eliminating mailing costs and daily or weekly trips into the office to distribute these materials. In addition, the TSMs have access to e-mail, Google Maps, and an electronic signature application for documents. Documents can now be signed and e-mailed electronically saving time, printing and storage while eliminating the risk of loss.
While the iPad solved the problem of replacing paper with electronic, up-to-date product information, Yumi also wanted to move its pre-sales ordering capabilities to the iPad platform. For this, they turned to technology partner IntegraSys.
The Solution: Route Sales iPad Application for Pre-sales
With IntegraSys' DSD Manager providing the core of Yumi's back office operation, the company was keen to stick with a proven solution and needed a mobile application that integrated tightly with DSD Manager.
Since Yumi was already using Apacheta RouteACE for its direct store delivery, the Pre-sales iPad App from Apacheta and IntegraSys was a natural fit.
With the Pre-sales iPad App Yumi can:
• View daily stop list and customers off route
• Access customer information, open accounts receivable, promotions, and download pre-populated order templates
• Receive alerts when a customer is on credit hold, with the ability to bypass using a security code
• Scan items, order only authorized products, order cases, units or both, and process returns, buybacks and samples with reason codes
• View sales history with quantities and prices, and track quantity and dollar totals while placing orders
• Collect electronic signatures and email a copy of the order to the customer or print to a wireless printer via AirPrint
• Conduct end-of-day settlements
• Integrate with Google Maps for GPS driving directions from stop-to-stop
Yumi rolled out the iPad Pre-sales application in early 2014 to 50 Territory Sales Managers. Because the TSMs were already familiar with the Apacheta RouteACE presales application on the Windows Mobile device, after a few tweaks, the transition was nearly seamless. TSMs participated in a short 2 to 3 hour training session and hit the road. Approximately 80 percent of the TSMs had no questions at all and other questions were fielded for two to three days and it has been smooth sailing ever since.
"The pre-sales app is so easy to use that our TSMs are spending less time on the device and more time with customers to build better relationships. They enjoy using a visual platform for showcasing products and planograms without having to run to their car to get a binder or call their boss to get answers to questions," explains Sam Chen, Yumi IT manager.
The Results: Less Time Answering Questions, More Time Selling and Managing
Yumi has received some clear benefits by moving to the iPad-based solution. First, sales managers used to spend 80 percent of their time fielding questions from TSMs regarding pricing, products and customers. With this information up-to-date and readily available on the iPad, this has dropped to only 20 percent. This means that managers have more time to develop strategic sales plans and spend less time on sales support. Plus, the TSMs are spending less of their time asking the questions, giving more face time with customers to deliver superior service.
Next, the TSMs are able to move through their mobile workflows more quickly, allowing them to visit more customers per day. With each route growing 20 percent to 30 percent in the last year, adding more customers and products per route, it is important that Yumi is able to service customers quickly and professionally.
Finally, the new system requires less of an IT investment in capital investment and time. The iPad minis are significantly less expensive than the formerly used rugged devices and, because they have been so reliable, very few need to be kept on hand to replace/swap inoperable units. In the past, when a unit wasn't working, the TSM would drive 30 to 60 minutes into the office to have it fixed or replaced, costing valuable sales and IT time. In addition, the devices are more reliable and intuitive so IT spends significantly less time on technical support, freeing them up to implement new technologies.
Next Steps: Adding More Features
Yumi was eager to get the pre-sales application in the hands of the sales team quickly and will continue to add new functionality over time. First priorities for Yumi include implementing integrated customer surveys (to replace the SurveyMonkey solution currently in use), prospect management, and asset management. The flexibility of the pre-sales application provides Yumi with the ability to not only add new features when available, but also make adjustments to workflows to support different vendors that have different requirements.